Visit our Facebook Page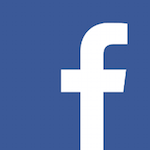 Click the button below to read a random site article

Share This Page

Introduction
There are online groups and organisations you can join, where you may wish to donate your crafts for animals. Rescues register with these groups when they need help with crafted items. You can find these groups on this page.
However, there are a few other places where you can donate your crafts for animals, without being part of an online crafting group or community.
Image: Where you can donate your crafts for animals. Image Source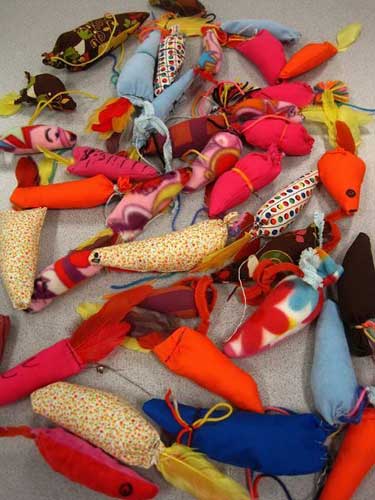 Here are other ways of crafting to help animals.
Local Rescues
Contact rescues in your area to see if you can craft, knit, crochet, or sew items for them.
Rescues local to you may have a shortage of certain items that you could help with, or they may find your crafts for animals helpful for their fundraising efforts.
Online Fundraising Events
The two groups below are where many animal rescues and rescuers publicise auctions, sales, and other fundraising events, that they hold on Facebook. They hold these events to raise funds to save animals from suffering. Items for the events are very often badly needed.
The Facebook group below is where online auctions and buy-it-now sales in aid of animal rescues are held. If you wish, you can choose a fundraising event in this Facebook group to donate your crafts for animals to:

Auctions and Sales ONLY: To Help Animals
In the group below, fundraising events are not limited to just auctions and sales, as in the one above. A wider variety of online fundraising events are held, all still in aid of animal charities and rescues. Many of these events still welcome donations of crafted items:

Animal Rescue Auctions, Buy It Now Sales & Other Fund Raisers NOW ON!
There is no pressure to donate crafts – or any items at all – to the events in these groups. You may instead fancy simply browsing the fundraising events to see what bargains you can find for yourself, or what fab gifts you can find for family and friends.

Egypt Equine Aid
EEA operate a free equine veterinary clinic for local working animals in Cairo, Egypt. They take in sick & injured horses & donkeys, treat them & educate their owners about better animal husbandry.
What they also do is provide equipment to reduce the animals' pain while they are forced to work. Crafters are a big part of that. Supporters can get together on the Egypt Equine Aid Supporters Facebook page, where they can find crafting patterns and instructions.
The ASSWIN Project

The ASSWIN Project is in need of thick blankets large enough to go over an working donkey's back in India. This is to stop their heavy loads quickly rubbing their skin away and painful wounds being created. The donkeys do not get veterinary treatment and are still made to work in this agony. The ASSWIN Project help educate donkeys owners in India about how they can better care for their donkeys. They provide them with padding and a variety of other equipment, crafted by their volunteers. ASSWIN also rehabilitate injured donkeys.

Image: The founders of the ASSWIN Project need your crafting skills to help working Donkeys in India..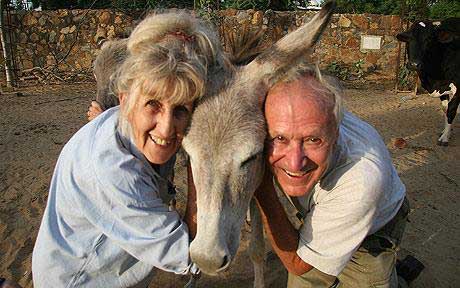 Twitchy Noses
Twitchy Noses is a charitable organisation that helps strays in Bulgaria by working with local rescues there.
The address to send blankets to them is:
Twitchy Noses,
C/o Clare Parfrey,
2 forge lane,
Blakedown,
Worcestershire,
Dy103JF
Image: Twitchy Noses needs your crafting skills. Image Source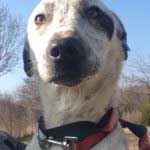 Saving Romanian Strays
Saving Romanian Strays is an organisation that help strays in Romania by rehoming them inthe UK, and by sending out donated supplies to struggling animal rescues in Romania.
Claire Revis, of Saving Romanian Strays, is appreciative of receiving crafts for animals, especially tightly knitted blankets, as she says "Tightly knitted blankets seem to be the only ones the dogs don't shred! "

get in touch through the website, or through Saving Romanian Strays on Facebook
Image: Saving Romanian Strays is grateful for your crafts to help animals. Image Source
The Animal Rescue Crafters Guild
The Animal Rescue Collective Craft Guild ask for the assistance of crafters to help craft items for animal rescues around Australia. During a large portion of the year they are in particular need of items for the animal victims of the Australian fires. They have both a Facebook group and Facebook page, where you will find patterns for making items, and can keep up to date with what is needed.
Image: Help is especially needed by animal refuges during the long Australian bush fires season. Source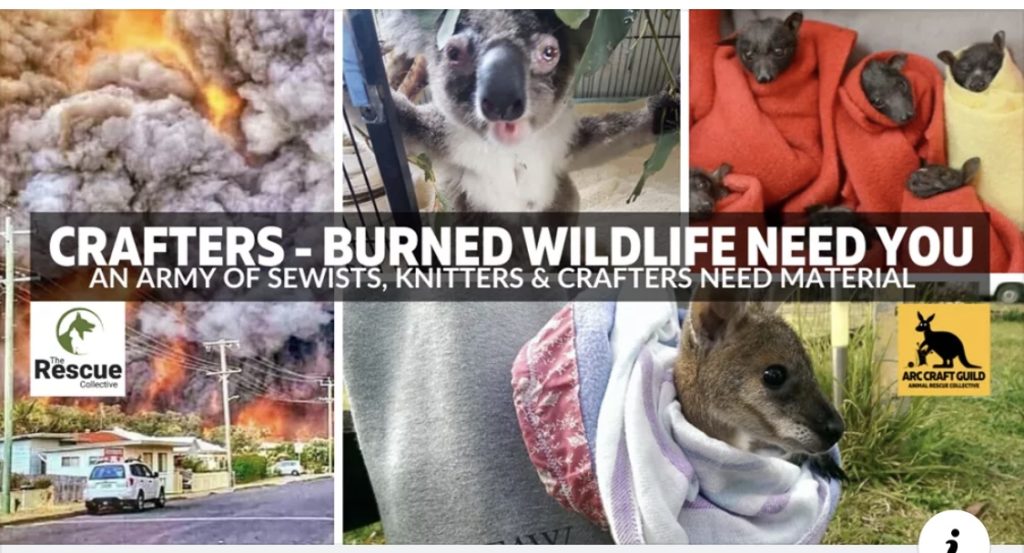 Many Other Ways To Help Animals
Here are many more ways you can craft to help animals.
On this site there are many varied ways you can help animals and help stop cruelty. In fact, there are so many different ways that there is something for every personality type, no matter what their circumstances.
If you would like to learn more about why we so urgently need to help stop animal suffering, please see this website. It will allow you to broaden your knowledge of many different types of world wide animal abuse, giving you the ability to help animals by spreading awareness and answering questions people may have. Please be aware that you may find the information distressing.
One great way to help animals is to share the information you have seen on this website. Doing so means more people could help stop animal cruelty, and that would make you responsible for more animals being saved from suffering. Together we can help people help animals <3
You Are Here:-

Comments
Do you know of information you think should be included in this page? Do you know of more ways of crafting to help animals, or would you like to share crafting for animals you have done? We'd love to hear from you, so please leave a comment below.