Visit our Facebook Page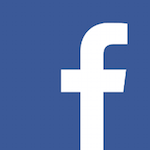 Click the button below to read a random site article

Share This Page

Introduction
On this page you will find free sewing ideas to help animals. Your creations can be life saving for animals in rescue shelters and wildlife rehab centres. They can be used in the following way:
In the care of animals
To raise funds
Your skills can be used to make life saving coats for dogs who face enduring sub zero winters outside, and you can make snoods and jackets to help cold-feeling abandoned Greyhounds warm. You can help confused and scared abandoned pets in rescues by sewing dog bandanas for the rescue to spray calming scents on, and you can enrich the lives of rescue animals by sewing pet toys.
You can help wildlife in rescues too, with kangaroo joey pouches for orphans, and Koala mittens for Koalas burned in forest fires. Your creations can be used to help ease the pain of working donkeys in other countries, and make items for animal charities and rescues to use in their fundraising activities.
You can enjoy doing your hobby and help animals at the same time. If you also enjoy other types of crafting, you can find more ways you can help animals, here.
If you have organisation(s) in mind that you wish to sew for, it is worth getting in touch with them to check their current need for items.
Image: A wonderful lady saved many lives by making these waterproof, warm dog coats to help dogs through sub zero winters at outdoor rescues in Romania.
Here are other ways of crafting to help animals.
Sewing Ideas For Life Saving Dog Coats
There are many countries in which rescue shelters are not well supported by the public, and are not welcome there by most. This means the rescue dogs are often kept in very poor conditions. They have no heat and limited shelter – or no shelter at all – even when temperatures go much lower than freezing. In such countries, animals can be treated with the most cruelty, as you can see here. The rescues can often get flooded, or can become mud baths. As a result, the dogs get very wet and extremely cold.
All this means that every year in winter, dogs sadly freeze to death. One way to help prevent this, is to provide these rescue shelters with warm, waterproof dog coats.
Image: Sewing ideas for two warm and waterproof life saving dog coats.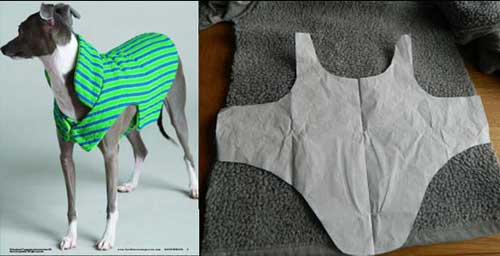 With these sewing ideas, you can make such life-saving coats. I chose these two designs because:
One is easy for beginners, and the other slightly less easy, but covers the dog better
They will both be easy for rescuers to fasten onto on the dogs
I have adapted the instructions to make them warm and waterproof.
Materials
With both these sewing ideas, you can make a life saving dog coat from old clothes or fabric you have. You can alternatively buy suitable clothes or fabric cheaply from charity shops. The waterproof outside layers can be made from waterproof vinyl. You can often find raincoats made from this, or a similar waterproof fabric, in charity shops. It is important the fabric is 100% waterproof so that the warm middle layer will never get wet and make the dogs colder. It is also important that the waterproof fabric is of good quality and does not rip easily.
Image: Waterproof ponchos can often be found in charity shops and offer a lot of fabric to work with. Image Source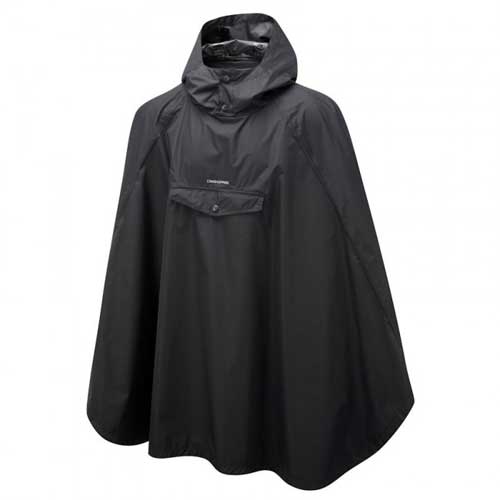 The middle layer of the dog coat could be an old padded jacket, on old warm quilt, or other warm fabric. If you are a keen knitter, you could knit the warm middle layer.
If you enjoy making the jackets, you could make a variety of sizes, as rescues have small dogs right up to extra large dogs.
Waterproof Life Saving Dog Coat – Design 1 (Easy):
This is an easy, but not very technical, way of making a life saving dog coat, which is good for beginners to try.
You will need three layers for the complete coat: two waterproof layers – one for the top and one for the bottom – and a layer of thick, warm fabric for the middle. You can use the same pattern for all three layers, but the middle layer should be slightly smaller in size. This is so that the waterproof layers are able to seal the middle layer inside when they are all sewn together.
The following instructions are adapted from WhatYouSew.BlogSpot.co.uk by Becky Gray:
I had an old fleece jacket that I was going to give to charity, so i used that for this example.
To make the pattern on paper I measured from the base of my dog's back to about and inch from the base of his tail. I then measured around his neck and also around his chest (behind his front legs – widest part of chest). Finally, I joined up the measurements with a few curvy bits! (Not very technical but it turned out OK). It was then ready to cut out.
It is a good idea to extend where the coat fastens around the neck and chest. This means longer strips of velcro can be sewn onto them, and as a result, the coat will fit more dogs. You can make other amendments if you wish too. For instance, you can make the coat wider at the back to have more fabric covering the sides of the dog, or you can make the coat a bit longer.
Image: Images for this dog coat are from WhatYouSew.BlogSpot.co.uk by Becky Gray.
Pin It, Cut It, Sew It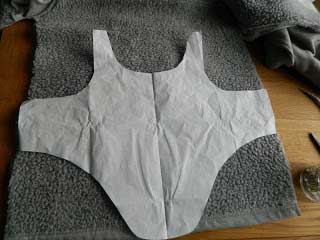 I pinned my paper pattern onto my fabric, and cut around it.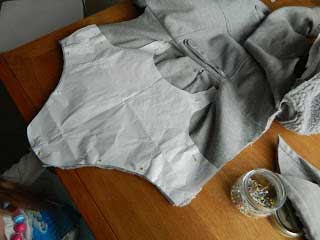 I then used the sewing machine to zigzag stitch around the whole thing. You can alternatively hand sew it.
Next, I put buttons on the neck and underbelly fastenings. Since in this instance the coats are to be for animal rescues, it may be better for velcro hook and eye strips to be sewn on. This makes them less fiddly to fasten.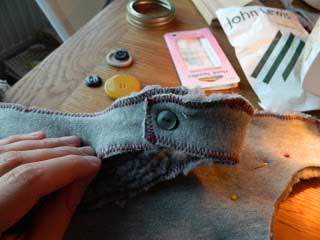 An adjustment I had to make was taking in the body a bit so the coat wasn't flapping about. I just put a couple of dart-type things along the side edge.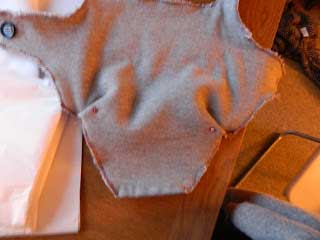 It took about an hour to make this inside layer. Doing another two waterproof layers to seal this warm layer inside, could take another two hours. Remember when cutting out the waterproof layers that they must both be larger than the warm inside layer. This is so that the warm inside layer can be sealed inside, in no danger of getting wet.
To hold the warm middle layer in place, all three layers must be sewn together around the edge. To seal the warm middle layer inside the waterproof layers, the top and bottom layers must then be sewn together with an additional line of tight stitching around the outside. This line of stitching should be further out than where all three layers were stitched together.
---
Waterproof Life Saving Dog Coat – Design 2 (Less Easy):
If you think you could tackle something slightly more complex, this dog coat has a collar and chest flap to keep the dog warmer. A warm and fully waterproofed version of this one would be a good life saving dog coat.
Image: The pattern we are using was adapted from this woven version created by Ruth Morrison of Oklahoma. Image Source
Below is the pattern for this dog coat.
Fitting the coat to your dog:
The pattern shown is for a small dog with a neck-to-tail length of about 10″ and a chest circumference of 18″ (size 10 in commercial coats for small dogs). For a larger dog, adjust these two measurements, lengthen the neck flaps and chest plate/tummy flap. Then transfer the pattern onto paper that you can cut out and try on a dog the size you want.
Make It More Adjustable
Making this dog coat more adjustable is a good idea, so it will fit more dogs at the rescue. To do this, extend the areas that fasten around the front of the dogs neck, chest strap and tummy. Then you can add longer strips of velcro onto them.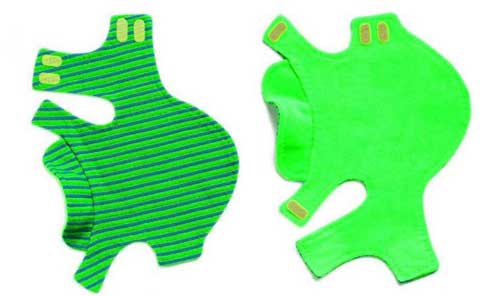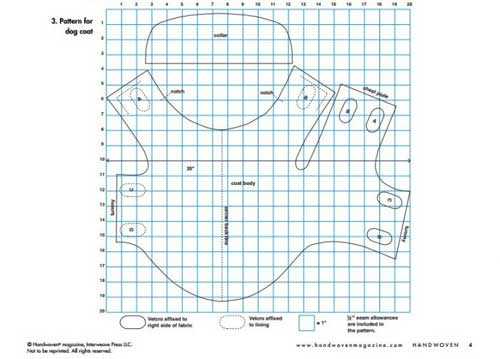 Cut the pieces of your pattern out of the paper. Tape together the pieces in the positions they would be when sewn together. Once you are satisfied that your pattern fits the size of dog you want it to, pin your pattern on to your fabric and cut around it. Alternatively, draw around your pattern onto the fabric and then cut it out.
All the instructions are to complete each layer are here.
You will need a waterproof top layer, a warm middle layer, and a waterproof bottom layer – three in total. The warm middle layer should be smaller than the two waterproof layers. This is so that when the layers are sewn together, the warm layer can be sealed inside the waterproof layers with no danger of ever getting wet.
To hold the warm middle layer in place, all the pieces must be sewn together around the edge. To seal the warm middle layer inside the waterproof layers so no water can get to it, the top and bottom layers must then be sewn together with an additional line of tight stitching around the edge, just a little further out.
Sew Coats & Snoods For Greyhounds
Use these sewing ideas to help abandoned greyhounds and galgos.
Coats
Greyhounds In Need rescues Greyhounds and Lurchers, and in particular Spanish Galgos who face horrific cruelty in Spain. They would be grateful for knitted and fleece coats, and provide patterns for a coat and a "snuggler" (dog nightie!).
Greyhound Gap is a small independent charity that rehabilitates and rehomes Greyhounds and Lurchers in danger of being put to sleep in UK pounds. They welcome fleece jumpers / coats for their rescued animals.
Image: Greyhounds In Need provide sewing and knitting patterns for coats they need for their dogs. Source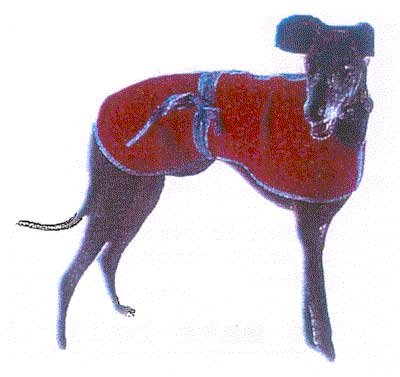 Snoods
Snoods are also used to keep the dogs necks, and sometimes ears, warm. Below is an ear warming fleece snood sewing pattern. It takes around 15 minutes to make:
Materials Needed:
• 20″ x 30″ piece of fabric (polar fleece works best, but anything thick and warm will do)
• 12″ piece of elastic (anything from 1/4″ to 1/2″ wide)
Instructions:
1. Basically, take a 20″ x 30″ piece of fabric. Sew a seam on the 20″ side so you have a tube.
2. Hem one end on the machine by turn the fabric over 1/4″, then 1/4″ again and sewing.
3. Turn over the other end 1/4″ and sew, then turn again (this time 1/2″ – 3/4″) and sew to make a casing. Leave a small opening.
4. Measure a piece of elastic around the dog's face (usually about 12 inches), near the ears. Subtract 2″ and cut the elastic. Be sure to measure while the elastic is in its unstretched state.
5. Thread the elastic through the casing. Adjust size on dog, sew elastic together, close up hole on casing and there you have it. You can put the snood on first, then the hound coat.
Image: Sewing ideas for snoods for Greyhound rescues.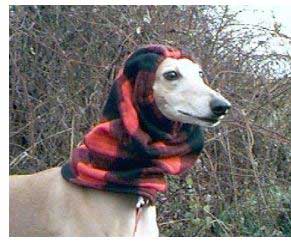 Make A Dog Bandana To Calm An Anxious Dog
London based animal rescue shelter, Battersea Dogs and Cats Home, always need people to use their sewing skills to make bandanas for their rescue shelter animals, because they spray calming scents onto them and put them onto stressed dogs to help them.
Image: Over the collar dog bandannas to calm rescue dogs. Image Source
They offer instructions for how to make the bandanas, here.
Sewing Ideas For Easy Pet Toys
If you like to sew and can make items such as cat and dog toys, they can be given to animals in rescues and shelters to play with, or can be used to raise funds for animal rescue shelters.
Image: Sewing ideas for dog and cat toys you could make to help animal charities. The image on the left shows a pair of old denim jeans recycled into a dog toy. As you get more confident, you can add details to your toys, like the toys on the right of the image.
Easy Cat And Dog Toy Sewing Ideas
Below is a sewing idea for basic dog or cat toys you could make. You can add your own extra details once you feel confident:
1.
Cut a shape out of two pieces of fabric the same size and shape. These can be whatever shape you like – a bone shape for a dog, a fish shape for a cat – but the more challenging the shape, the more difficult the project.
2.
Lay the pieces of material together so that the side of the fabric you want to end up on the outside is facing inwards.
3.
Sew three edges together, leaving one open for when you put the filling in.
4.
Turn the fabric inside-out so that the seams are on the inside.
5.
Stuff the shape with newspaper, crinkle filling, fiber-fill, and if for cats, catnip. The more filling you put in, the plumper and rounder the toy will be.
6.
Sew up the fourth side. It is are now finished.
Image: Sewing ideas for cat and dog toys. You can make any shape, and even use string to attach it to a wooden rod to a cat toy so it can be dangled. To be more adventurous, you can add more details, as with some of the toys below. Image Source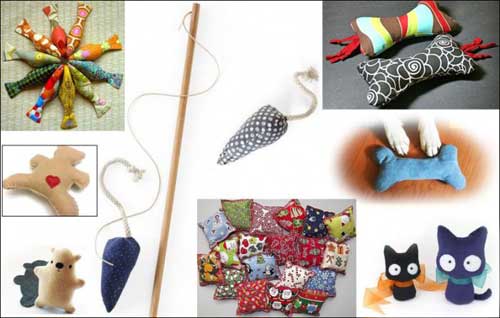 There are many more sewing ideas for toys that you can find on the internet. You can search for them and help animals at the same time by using a charity search engine.
Image: Make toys to enrich the lives of shelter animals.
Sew a Kangaroo Joey Pouch For Wildlife Rescues
Wildlife rescues in Australia save many marsupial Joeys, orphaned or injured through bushfires, accidents on the road, or for other reasons. The size of pouches the carers need for the joeys vary greatly depending on the stage of development of the joey in need, so all sizes ae needed. They pouches are used and washed frequently, and this takes its toll on them. This means that the need for pouches is always great for marsupial carers.
Joeys pouches and pouch liners are needed by all kinds of rescue groups in Australia. It is always prudent to check with the rescue you want to make a pouch for to find out what design of marsupial joey pouch or liner would be of use to them, and if they are currently in need of them.
Kangaloola Wildlife Shelter Inc has sewing ideas for how to make the best kind of joey pouches and liners for them on this page.
Image: Kangaloola Wildlife Shelter shares sewing ideas for a Joey Pouch. Image Source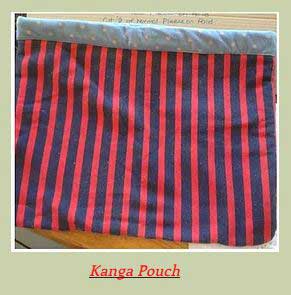 Send completed pouches and liners to:
Kangaloola Wildlife Shelter,
Yackandandah,
Victoria 3749,
Australia
IFAW also need pouch liners to give to carers because six pouch liners can be used per animal each day for each possom, kangaroo or wallaby. Here is their pouch pattern.
Image: Marsupial joey Pouch liner being used by IFAW carer. Image source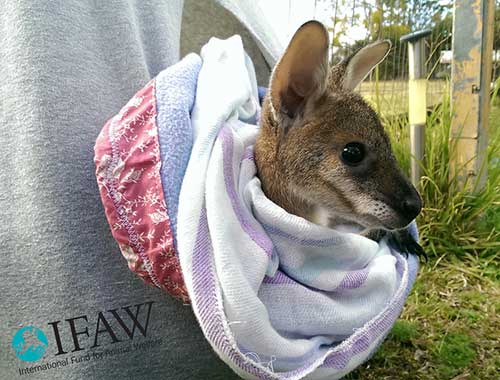 Blankets, Eye Masks, And More For Donkeys
Egypt Equine Aid
Egypt Equine Aid are a charity who help working equines and their owners. They try to educate the owners on how to best care for their animal. They also treat the animals who need it, and provide equipment to ease their pain while they work.
This is where crafters come in. They can make some of the equipment needed.
Mary, from the charity says "EEA needs so many things to help the equines in Egypt. Some can be made for a fraction of the cost of one purchased from manufacturers. We need nose band covers to put over chains to prevent horrific nose injuries, fly veils to keep flies from them eyes which transfer some horrid diseases, fly masks which do an even better job and can be used to cover the eyes when injections are used etc., and saddle pads / numnahs to place between their backs and the terrible saddles used."
Image: A less severe (but still incredibly painful) example of a nose injury working equines often get, that crafters can help prevent.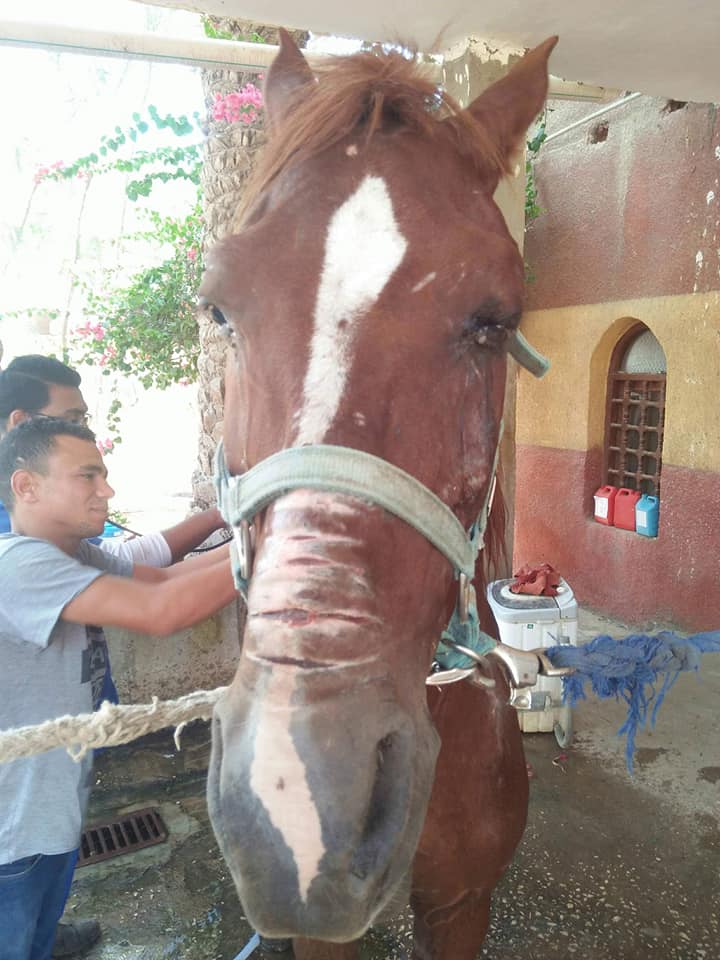 Mary says that the equipment is taken to Egypt by supporters. Thick blankets take up too much space in luggage, but thinner covers / numnahs are much easier to take.
Here are instructions to make a Fly fringe, fly mask, and nose band.
Another version of a nose band is shown in the image below.
And this is another type of fly mask you can make:
Crafters for the charity can get together with other crafters and EEA supporters at their Egypt Equine Aid Supporters Facebook Page.
The Asswin Project
The ASSWIN Project is in need of volunteers to create thick blankets large enough to go over a working donkey's back in India, to help stop their skin being quickly rubbed away by their heavy loads. Without them, painful wounds are quickly caused. The donkeys do not get veterinary treatment and are still made to work in this agony. The ASSWIN Project help educate the donkeys owners about the best way to care for their working donkeys. They provide them with padding and a range of other equipment that has been crafted by their volunteers. ASSWIN also rehabilitate injured donkeys.
Image: Sewing ideas for fly masks – one of the items made by volunteers of The ASSWIN Project to help working donkeys in India. Image Source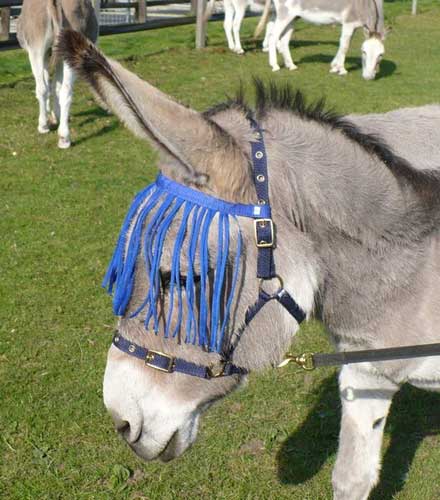 You can get involved in the community with The ASSWIN Project Page on Facebook.
You may also wish to look at The ASSWIN Project Website.
Make Koala Mittens
When bushfires occur in Australia every year, many slow moving Koalas sadly perish. The lucky ones that survive are often badly injured and need intensive treatment by vets and dedicated wildlife carers. Injured koalas typically come into care with severe burns, especially on their paws, caused by contact with burning trees or from fleeing across fire grounds. These injuries need treatment with burns cream and paws need to be protected with special cotton mittens.
A plentiful supply of these mittens are needed throughout the bushfire season, as dressings need changed daily and some Koalas can take up to a year to recover. That's where you crafters can help.
IFAW asked for koala mittens made from clean, 100% cotton fabric.
"Maybe you have some old cotton sheets or tea towels – just check that the material is 100% cotton," Josey Sharrad of IFAW said.
Last time they appealed for people to make them, they had an overwhelming response. However, at some point, they, or other rescues, will be in need of them again.
Before you use your time making them though, it is very wise to check with IFAW about whether they currently need them. If they do, send your mittens to IFAW, 6 Belmore Street, Surry Hills 2010 and IFAW will distribute them where they are most needed.
You may wish to check with other wildlife animal rescues that take in Koalas, to see if they need these mittens.
Sewing Ideas For Unique "Jumper" Pet Beds
If you like crafting things and sewing, you can use the sewing ideas on this page to make an old jumper into a unique novelty dog or cat bed. Your bed could be used to fund raise for an animal rescue shelter, or can be used by their animals.
Image: Unique pet bed made from jumper or sweater. Image Source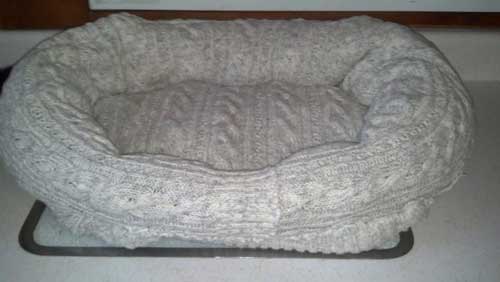 The instructions on how to make this dog bed are by Autumn Stalker Herbal Crafts, and are here, but you can use any sweater or jumper you like (except loose knit, as the stuffing would come through).
Image: Sewing ideas for sweaters and jumpers used to make dog or cat beds.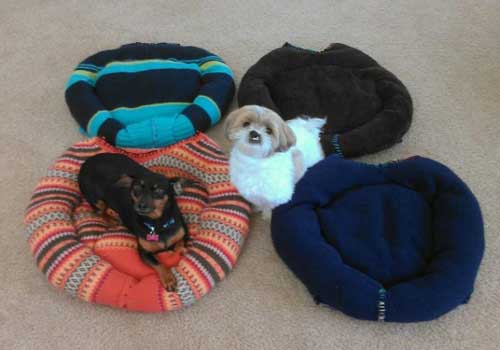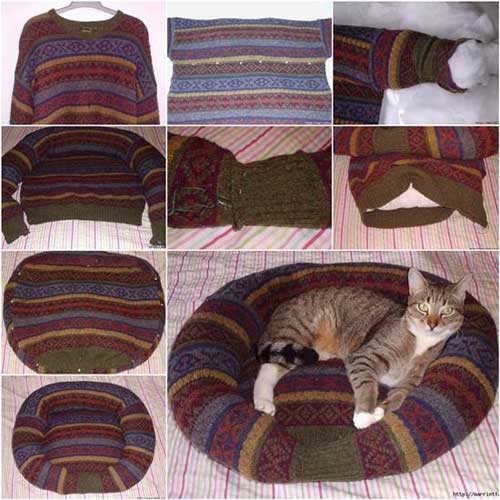 Cheap Materials For The Sewing Ideas
If you run out of your own materials for your sewing products, tell friends and family that you are crafting to help animals, and appeal to them for the materials you need. You may find people have an excess of things you need, and are very willing to give you them for a good cause. They may even want to get involved.
Other places you can find cheap materials for your sewing ideas are charity shops. If not charity shops, then discount stores or online. With some types of crafting, you may find materials in the environment.
Other Ways To Help Stop Animal Suffering
Here are more ways you can craft to help animals.
This site is all about the many varied ways you can help animals and help stop cruelty. In fact, there are so many different ways that there is something for every personality type, no matter what their circumstances.
If you would like to learn more about why we so urgently need to help stop animal suffering, please see this website. It will allow you to broaden your knowledge of many different types of world wide animal abuse, giving you the ability to help animals by spreading awareness and answering questions people may have. Please be aware that you may find the information distressing.
One great way to help animals is to share the information you have seen on this website. Doing so means more people could help stop animal cruelty, and that would make you responsible for more animals being saved from suffering. Together we can help people help animals <3
You Are Here:-

Comments
Do you have information you think should be included in the page? Do you know of ways to craft to help animals, or would you like to share some crafting you have done to help animals? We'd love to hear from you, so please leave a comment below.