Visit our Facebook Page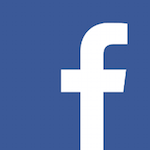 Click the button below to read a random site article

Share This Page

Introduction
On this page you can find lots of free crochet and knitting ideas and patterns to help animals. Your kind hearted creations can either be used in the care of animals in rescue shelters and wildlife rehab centres, or to raise funds for them. Your work can help save innocent lives.
Image: Do some charity knitting and crocheting for animals with these crochet and knitting ideas. Image Source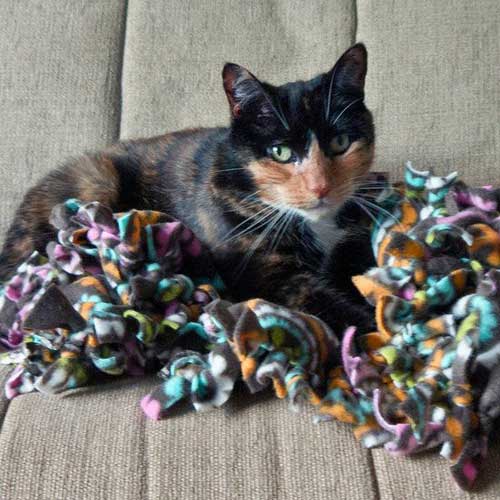 It's always worth checking with the organisation you wish to crochet or knit for, to check their current need for items.
Here are other ways of crafting to help animals.
Knit Blankets For Animal Rescue Shelters
Blankets can either be used as comfortable bedding for animals in rescues, or they can used by the rescue to sell to raise funds. In some rescues, they can also be used to keep draughts out of the sleeping areas of shelters.
Knitted blankets are welcomed by most animal rescues, but avoid making loose knit ones.
Claire Revis, from Saving Romanian Strays, says "Tightly knitted blankets are ideal, as they seem to be the only ones the dogs don't shred!"
– Blankets For Battersea Dogs & Cats
Battersea Cats And Dogs Home , based in London, UK, are appealing for people to "give dogs a homemade hug" by knitting them a cosy comfort blanket. They use the blanket in the shelter, and take it with them when they get a new home, so they have something familiar with them to comfort them.
Here is the free knitting pattern of the blanket shown in the picture above.
If Battersea Dogs and Cats Home is not local to you, you can donate your blanket to a local animal rescue shelter, or post it to them.
Image: Marcel the dog, rescued by Battersea Dogs and Cats Home, waiting for his new home with his knitted comfort blanket. Image Source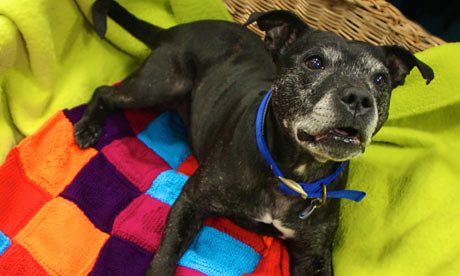 – Blankets For Romney House Rescue Cats
Romney House Cat Rescue in the UK is one of many animal rescue shelters that welcomes knitted blankets. They also welcome hand crafted toys (see the toys section of this page).
On a page on their website, they says how comfortable bedding can make a huge difference to their rescued animals. The blankets need continual cleaning, which can take its toll on them. Also, if their kittens have become attached to their blankets, they are allowed to take them with them to their new home, so they have something familiar to comfort them while they adjust. The rescue encourage people to knit or sew blankets for rescue cats.
Image: Do charity knitting for animals by knitting blankets for animal rescues. Image Source
Knitted blankets are always needed and appreciated at the rescue. They would also consider selling them in their shop to raise much needed funds if they had enough of them to do so. There are many free sewing instructions and knitting patterns for blankets on the internet, and you can choose to do whatever pattern you like. Only loose knit blankets are not recommended.
– Blankets For Other Rescues
Cats Protection is another animal rescue appealing for people to knit blankets of their choice for their rescue animals.
Saving Romanian Strays sends out supplies to struggling animal rescues in Romania, and finds homes for rescued Romanian strays. They would be grateful for knitted blankets for the dogs and cats they help. If the had enough blankets, they would also be able to sell some to raise much needed funds. Saving Romanian Strays has a Facebook group, here, and a Facebook community page, here.
Image: Saving Romanian Strays is in need of knitted blankets for Romanian Rescues. Do some charity knitting for animals to help. Source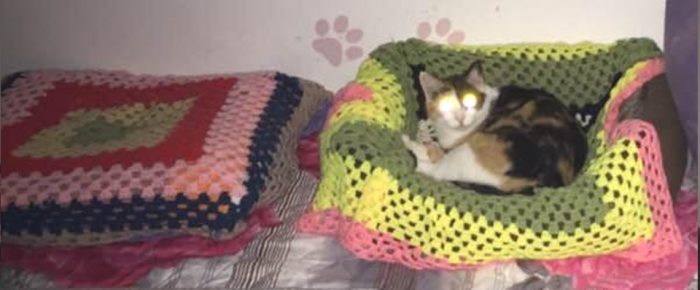 Many other animal rescues and wildlife rescues are in need of charity knitters to volunteer their skills for their animals. Contact rescues in your area to ask what they are in need of.
Knit Jumpers And More For Rescue Animals And Wildlife
There are a number of reasons that animals in pet and wildlife rescue shelters may need jumpers knitted for them.
Animals often arrive at rescue shelters with very matted fur. The only way to treat this is to shave all the fur off. This can leave the animal very cold and in need of a jumper. This is especially important if they are unwell, which many animals are when they arrive. They may be suffering from skin conditions, or stress has made them attack their coats and skin. Then there are animals who are just prone to feeling the cold.
Black or dark coloured dogs and cats are often overlooked at rescues in favour of lighter coloured pets. Knitting brightly coloured jumpers for them to wear makes them look more appealing to adopters. It can actually speed up the rate at which they get adopted.
When ex-battery hens are rescued, they can be in an awful state. They have often plucked out (due to stress) or rubbed away many of their feathers on the small cages they spent their lives in. Some hen rescues use jumpers for their hens, but others do not recommend the jumpers.
Parrots and other birds can pluck their feathers out due to stress. Jumpers prevent further plucking, as well as keeping them warm.
When there have been oil spills, penguins covered in oil have needed jumpers to stop them swallowing the toxic oil by instinctively preening to remove it.
Read on to see ways your knitting can help all these animals and more.
Image: Jumper to keep oil covered penguins warm and stop them preening and swallowing oil.
Image Source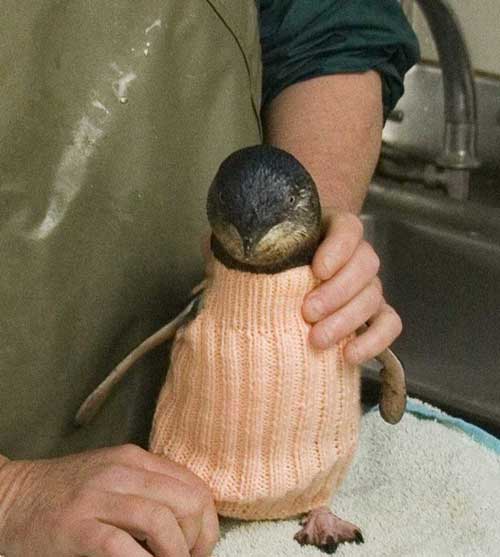 – Knit Jumpers To Help Dark Dogs Get Adopted
Black and other dark coloured dogs take much longer to be adopted largely because they tend not to photograph well and do not stand out. It can be difficult to distinguish their features – especially the all important facial features. Also, any white or grey hairs can make them look older than they are.
Superstition has given black dogs a bad image too. In British folklore, and that of other cultures, black dogs often appear as evil forces that represent death to those who see them.
Brightly coloured jumpers makes these dark pets more noticeable and appealing.
Scottish W.I members Edith Smith and Winnie Anderson were the first to knit colourful jumpers for dogs at an SPCA rescue.
SPCA Superintendent Sharon Comrie explains:

"Through no fault of their own, black dogs are almost always the last to find new homes. It's a really creative idea to knit coloured jackets to show these dogs off to their best advantage.

Knitted jackets will be ideal because they will be soft on the skin, have an element of give and stretch, and can be created in any, or many, colours of wool.

Every knitted jacket that we receive will be put to good use at our rehoming centres…we will be able to build up a collection of special jackets for our dark dogs to wear with pride."
By knitting colourful jumpers for rescue animals, you can actually save lives. When these jumpers help dogs get adopted more quickly, life saving rescue spaces become free more often. As a result, more of the the dogs on death row in pounds have their lives saved.
You can find free knitting ideas and patterns for dog jumpers below.
Image: Knitting colourful coats for dark dogs makes them more appealing to potential adopters, saving lives. Source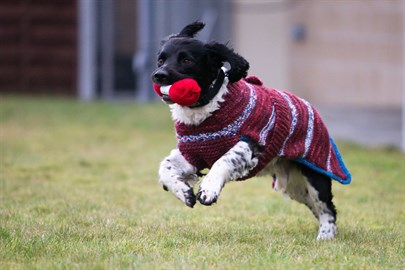 – Knit Jumpers For Rescue Shelter Pets In Mexico
United Hope For Animals, based in Los Angeles, have asked knitters if they would do some charity knitting to help dogs in Mexico. They need knitted dog sweaters for the dogs, which they hope to take down to Tijuana on their regular trips there. They provide this free charity knitting pattern.
Image: One of United Hope For Animals' volunteers with the dog sweaters she knitted to help rescue dogs in Mexico. Image source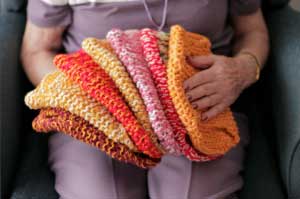 – Dog Jumper Knitting Ideas & Free Patterns
Although pets who are kept outside in rescue shelters are more likely to need waterproof coats, there are some rescues who can make use of knitted dog jumpers.
If you would like to help a specific animal charity, check with them to find out if they can make use of your pet jumper. They might like to sell it to raise funds, or use it in the care of their animals. It is also a good idea to check what sizes they are most in need of.
Below are knitting ideas and patterns for a variety of dog coats/jumpers/sweaters that are to fit a number of different sized dogs.
There are more free knitting ideas and patterns for dog jumpers and coats, here.
Image: One of the jumpers knitted for rescued dogs. Do some charity knitting and crocheting for animals and get involved.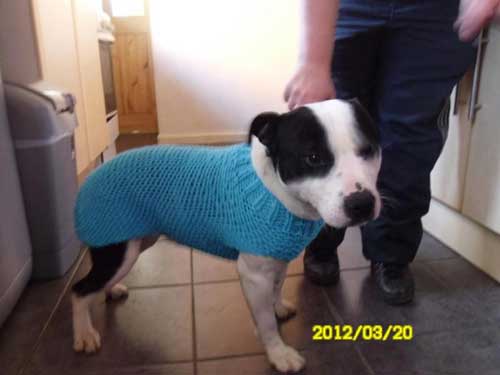 – Knit Coats And Snoods For Greyhound Rescues
Greyhounds really do feel the cold and benefit from the coats and snoods you can knit for them.
Greyhounds In Need rescue Greyhounds and Lurchers, and in particular Spanish Galgos who face horrific cruelty in Spain. They are grateful for people who do charity knitting for animals, and would be grateful for knitted coats. They provide knitting ideas and free patterns, here.
Image: Greyhounds In Need provide sewing and knitting ideas and free patterns for coats they need for their dogs. Source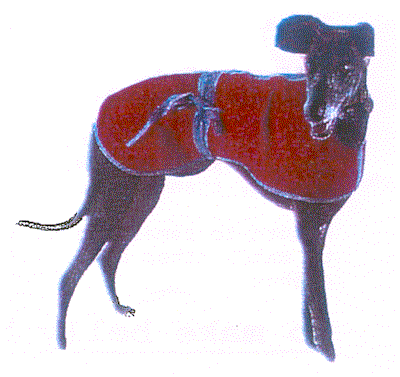 Snoods are used to keep the dogs necks, and sometimes ears, warm. There is a fundraising snood knitting pattern here, charged at ÂŁ2 to raise desperately needed funds. 100% of the money raised is donated to the Essex Greyhound Rescue service, or Lurcher Link. This means you can help Greyhounds twice, once with your ÂŁ2 donation, and again by knitting a snood for a rescue.
Alternatively, here is a free charity knitting pattern for a snood, provided by Northumberland Greyhound Rescue, who you may wish to donate your hand made garments to.
In addition to the Greyhound rescues mentioned, many of your local Greyhound rescues may be in need of coats and snoods. Contact them to find out.
Image: Greyhounds like snoods to keep their necks warm. Source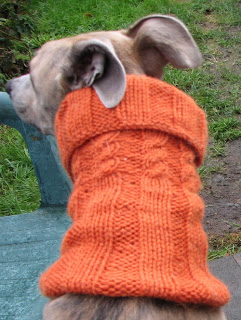 – Knit Dog Jumpers For Canine MRI Patients
As anyone who has had a general anaesthetic knows, after waking up, it feels miserable shivering with the terrible cold you can feel. The Animal Health Trust uses knitted dog and cat jumpers to keep the animals warm when they come around from the anaesthetic after having an MRI scan.
Although the Animal Health Trust say they have a good supply of jumpers for small dogs with short backs, and for cats, they need more for long-backed dogs, such as dashunds, and especially for larger dogs. However, since they stated this, things may have changed, so it is best to get in touch with them to find out what they need.
They say that the jumpers do not have to look pretty, and you can use up any old yarn you like. If it goes a bit wrong and doesn't look how you wanted, that's OK too.
If they get enough surplus jumpers, they may be able to sell them in their gift shop to raise funds.
Image: Knitted jumpers help keep dogs, who undergo MRI scans with the Animal Health Trust, warm. Image Source
– Groups Who Crochet / Knit For Animals You Can Join
There are groups who help animals through crocheting and knitting that you can get involved with. Animal rescue shelters and wildlife rescues register with them for their help. See this page for groups you can join.
– Knit Jumpers For Parrots
Best Friends Animal Sanctuary, in Utah, provide a knitting pattern for a parrot jumper here.
Best Friends says that parrots who come into their care have sometimes plucked their feathers out through stress. The jumpers not only keep the birds warm, but prevent them from plucking out more of their feathers.
Image: Windy the parrot wearing a jumper to keep him warm and stop him plucking more feathers out due to stress. Image Source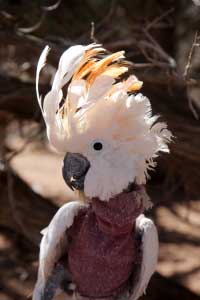 If you would like to make a parrot sweater, it is best to first contact animal rescues and sanctuaries to see if they are in need of them.
– Jumper Vests For Ex-battery Hens
Ex-battery hens often arrive at rescues without many of their feathers. The awful caged conditions they were kept in caused stress induced self plucking of feathers. More dominant hens also pluck out the feathers of other hens. In addition, neck and chest feathers get rubbed away on the metal cage bars when the hens are feeding.
Image: Ex-battery hens often arrive at rescues missing many feathers. Some rescues use hen sweaters to keep them warm and stop them plucking further.
Image Source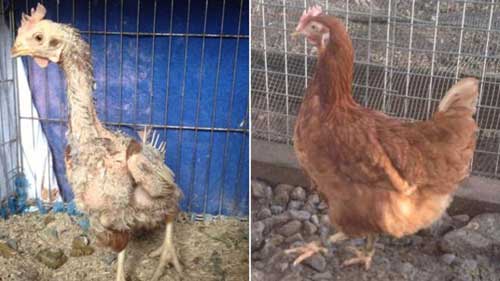 Although many animal rescues that rescue ex-battery hens use knitted hen vests, the British Hen Welfare Trust does not encourage their use,. Their reasons are explained here.
BHWT encourage people to knit them toy chickens and other things for them to sell in their fundraising shop (see the toys section of this page).
If you know of any animal rescue shelters or sanctuaries who rescue ex-battery hens, it is worth getting in touch with them to ask if they use knitted sweater vests for hens.
Here is a Hen Jumper knitting pattern you can use, but hen rescues may have their own pattern they prefer you to use..
Places that have appealed for hen sweater vests in the past include:

– Knit A Life Saving Jumper For Penguins Affected By Oil Spills
When there is an oil spill and penguins and other birds are affected, jumpers can be life savers. The birds naturally want to preen to clean the oil out of their feathers, but through doing this, they swallow the toxic substance. The jumpers prevent them doing this, and give their carers time to remove the oil in a safe way.
The jumpers also keep the penguins snug, after the oil has removed the natural oils from their coats that keep them warm.
In the past, there has been an overwhelming response to appeals for the jumpers. However, the jumpers used in penguin rehabilitation need to be a very specific size, shape, and type of wool. Unfortunately, many have not been. But wildlife charities did not want to waste them, so were able to sell some of the jumpers on soft toy penguins to raise vital funds to help wildlife. The jumpers made to the right specifications saved lives.
If you would like to knit little penguin jumpers for the Penguin Foundation, please contact them beforehand at pfoundation@penguins.org.au as the knitting pattern for penguin rehabilitation jumpers is very specific.
Image: Penguin Jumpers can be life saving, but only if done correctly. Image Source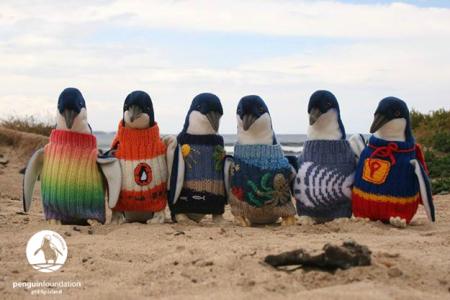 Knit Toys To Help Animal Rescue Charities
Toys are one of the many things you can crochet and knit to help animal charities and rescues. Below are crocheting and knitting ideas for toys you can make that specific animal rescues are asking for. The patterns are provided. We have also provided other free crochet and knitting ideas and patterns for toys.
You are welcome to be creative and knit other toys for rescued animals to play with, or that can be used to fund raise for animal rescue shelters. You will find many free knitting ideas and patterns online, in addition to the ones on this page.
– Toys For Battersea Dogs And Cats Home
Battersea Dogs and Cats Home encourage people to knit cat toys, including this pirate catnip mouse.
Image: Knit this cat toy for Rescued cats at Battersea Dogs and Cats Home in London. Image Source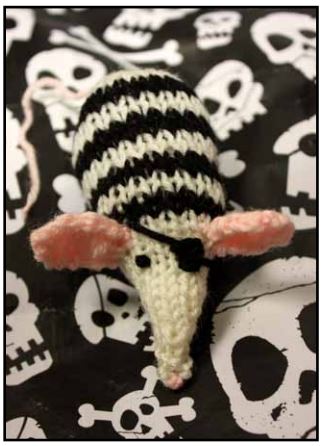 If you are not local to one of Battersea Dogs and Cats Homes three centres, and you would like to post your knitted toy to them, here is their address. Alternatively, you could donate your items to a rescue shelter local to you. It may be wise to contact the rescue you have in mind to check they can make use of your creation.
– Knit Mice And Other Toys for cats Protection
Cats Protection is appealing for people to knit cat toys for their rescue animals. They offer this knitting pattern of a catnip toy mouse. They would also appreciate knitted blankets (see Knit Blankets section of this page).
Image: Knit these toy mice to enrich the lives of rescued cats at Cats Protection. Image Source


The charity's branches, shops and adoption centres welcome donations of knitted mice and other cat toys. Such donations will make life better for the cats in their care.
– Make A Wooly Cat Toy For Romney House Rescue
Romney House Cat Rescue in the UK is one of many animal rescue shelters that welcomes knitted blankets and hand crafted cat toys.
On their website they explain how kittens that spend day after day cooped up, waiting for new homes, can become anxious and fed up. Something to play with can make a huge difference to that.
With the toys being played with and needing cleaned regularly, they can wear out. As well as this, many of the cats & kittens become quite attached to their toys, so to help ease them into their new homes, they can take them with them.
More knitted toys are always welcomed, and if they received enough of them, Romney House could sell them in their shop to raise desperately needed funds.
The rescue also appreciate receiving knitted blankets.
Image: Cats at Romney House Cat Rescue, and many other dog and cat rescues, always need knitted toys. Image Source
– Knit Or Crochet A Donkey To Help The Donkey Sanctuary
The Donkey Sanctuary love for people to knit or crochet donkeys for them to sell as fundraising items in their gift shop.
Image: Crochet or knit a Neddy or Woolly the donkey for The Donkey Sanctuary to sell in their online gift shop. Image Source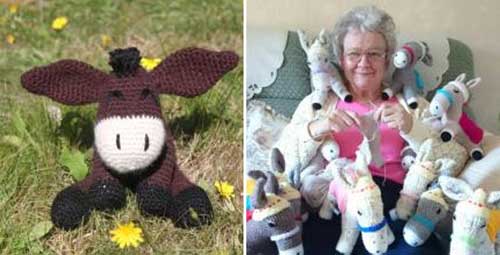 If you are interested in knitting or crocheting a donkey, you can contact The Donkey Sanctuary and get the crochet pattern here.
– Knit a Hen To Help The British Hen Welfare Trust
The British Hen Welfare Trust encourage people to create this knitted bird for them to sell to raise funds. They say to use whatever colours you like.
It is a sad fact that many caged hen victims of the farming industry cannot be saved, and will go straight to slaughter. However, the BHWT do a fantastic job of re-homing thousands of lucky hens each year. Profits from the sale of the knitted birds go towards them being able to do this.
Image: Use your crochet and knitting skills to make this chicken toy to help the BHWT rescue and re-home ex-battery hens. Image Source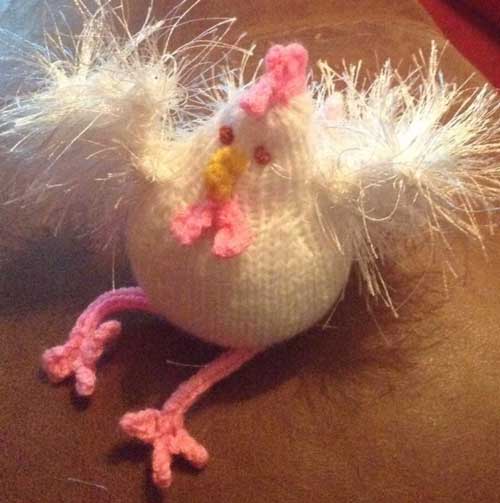 – More Free Toy Crochet / Knitting Ideas & Patterns
Here are some other crocheting and knitting ideas for toys that animal rescue shelters and animal charities may give to their animals, or sell to fund raise. Check with the animal charity you want to support that they can make use of your work first.

Knit Bone Shaped Dog Toys
Knit bone shaped dog toys using these directions, which can be used to fund raise for animal rescue shelters or can be given to the rescue's animals to enrich their lives.
Image: Knit dog toys that can be either given to rescue dogs, or sold by the rescue shelter to fund raise. Image Source

More Free Knitting Ideas & Patterns For Cat Toys
You can find free knitting ideas and patterns for all the cat toys in the picture below, here.
Image: Free knitting ideas and patterns for cat toys to help animal rescues and shelters.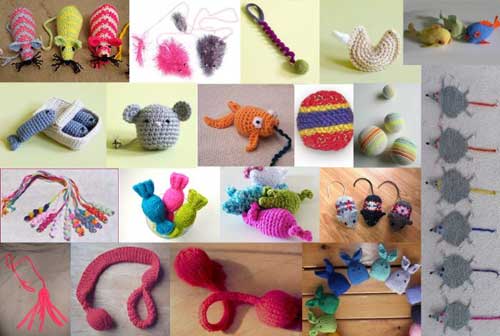 Crochet Or Knit Nests To Help Wildlife Animal Rescues
Wildlife Rescue Nests is a non profit organisation, based in Canada. It distributes nests, crocheted and knitted by volunteers, to wildlife rescues all around the world.
The typical animal you think of that would need a nest is a bird, but they are also used for small mammals such as squirrels, bunnies, raccoons, skunks, bats, hedgehogs, bush babies, wallabies, possums and many others. Orphaned, sick, and injured animals' chances of survival are increased by these nests.
Image: EXTREME CUTENESS WARNING!! Wildlife Rescue Nests knitted and crocheted by volunteers. Image Source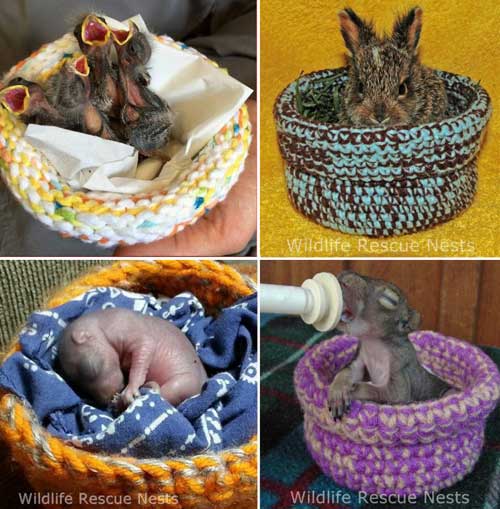 If you would like to be part of what Wildlife Rescue Nests does, go to their website to find out how. They will give you support and resources, and you will become part of a caring community. Get involved with the community on their Facebook page.
WRN are continually adding wildlife rescues to their list, so are always in need of more crafters to make nests.
Image: Another design Wildlife Rescue Nests have is the cave nest, suitable for burrowing animals. Image Source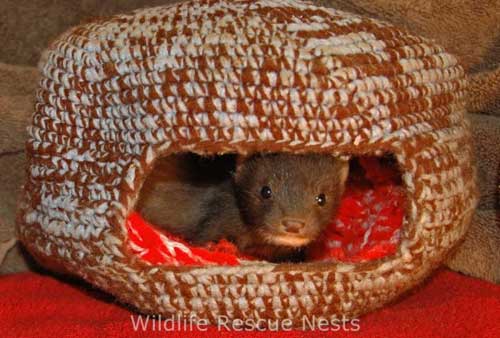 There are many nest patterns you can find online, but the ones provided by Wildlife Rescue Nests were developed and tested with the help of professional wildlife rehabilitators to prevent injuries to animals.
Here are some guidelines to make sure your nest is safe:
Very tightly knit or crocheted, many times with two strands of yarn — the nests should stand on their own, and tiny animal legs/toes/claws should not be able to get through the stitches and cause further injury.
Smooth machine washable yarn — Super Saver is great since it is sturdy and washes easily, but please do not use textured yarn or yarn with pieces that the animals can ingest.
Some wildlife rescues may only take nests made of pure wool, not synthetic yarns, so it's best to check.
– Nests for Other Rescues
If you prefer to make nests for specific wildlife rescues, check with the individual rescue to find out if they need them, and find out what size they need. They may also have their own pattern that they prefer people to use.
West Sound Wildlife Centre provides a free nest knitting pattern for nests it would like to receive, here.
Those nests should be sent to:
West Sound Wildlife
7501 NE Dolphin Drive
Bainbridge Island, WA 98110
Find free crochet and knitting patterns for the nests here, for the four wildlife rescues in need of them, below.
Image: Free crocheting and knitting ideas and patterns for artificial nests to save the lives of wildlife. Image Source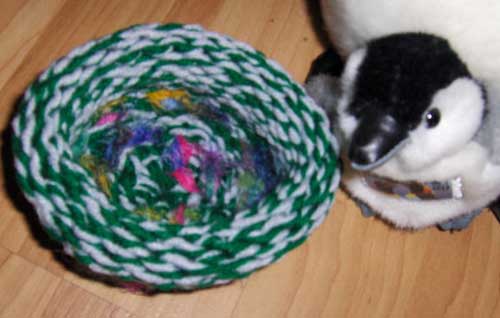 Crochet / Knit a Kangaroo Joey Pouch For Australian Wildlife
Wildlife rescues in Australia save many marsupial Joeys, orphaned or injured through bush fires, accidents on the road, or for other reasons. The size of pouches the carers need for the joeys varies greatly depending on the stage of development of the joey in need. This means all sizes are needed. The pouches are used and washed frequently, and this takes its toll on them. As a result, the need for pouches is always great for marsupial carers.
Joeys pouches and pouch liners are needed by all kinds of rescue groups in Australia. It is always wise to check with the rescue you want to make a pouch for. This way, you can find out what design of marsupial joey pouch or liner would be of use to them, and if they are currently in need of them.
WIRES Wildlife Rescue carers are always in need of suitable pouches for juvenile marsupials who need to be kept warm and quiet. The pouches are used for many different animals. They can sometimes be used for two or three young ringtails at once, for brushtail joeys (which are larger), and even for very young bandicoots and possums. See this page for how to make the kind of pouch WIRES needs. They also show you how to make larger macropod pouches, which they are in need of too. There are additional details about the pouches on this page.
Image: WIRES joey pouch. Image Source
Wires gratefully receive completed pouches at this address:
WIRES Wildlife Rescue,
Suite 39,
Lifestyle Working,
117 Old Pittwater Road,
Brookvale
NSW 2100
Make Thick Blankets And More For Working Donkeys
The Asswin Project
The ASSWIN Project is in need of volunteers to create thick blankets large enough to go over a working donkey's back in India, to help stop their skin being quickly rubbed away by their heavy loads. Without them, painful wounds are quickly caused. The donkeys do not get veterinary treatment and are still forced to work in agony. The ASSWIN Project help educate the donkeys owners about the best way to care for their working donkeys. They provide them with padding and a range of other equipment that has been crafted by their volunteers. ASSWIN also rehabilitate injured donkeys.
Their address is:
The Asswin Project,
Well House,
Wartling Road,
Wartling,
East Sussex
BN27 1RX
Tel. (0091) 98101 64214
You can also find them on Facebook, here, and get involved with their community.
Image: Fly masks are one of the items made by volunteers of The ASSWIN Project to help working donkeys in India. Image Source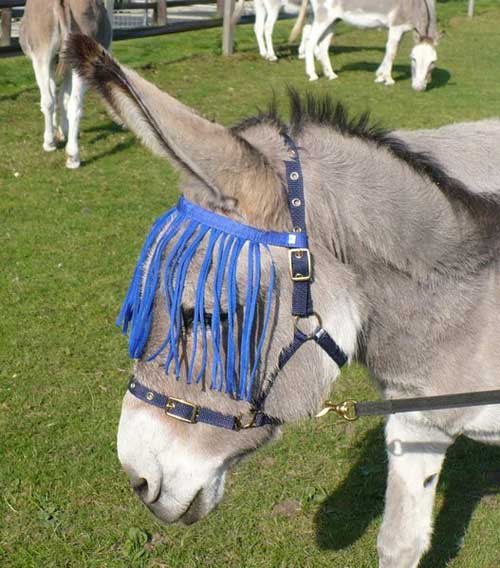 More Crocheting / Knitting Ideas And Free Patterns
This site provides a huge number of free crochet and knitting ideas and patterns suitable for wildlife and animal rescues. It offers advice and ideas on supplies you can crochet and knit to help animal rescues. Their patterns can be anything from blankets for the animals, to ferret sweaters, to tea towels and dishcloths for the rescue to use.
Image Source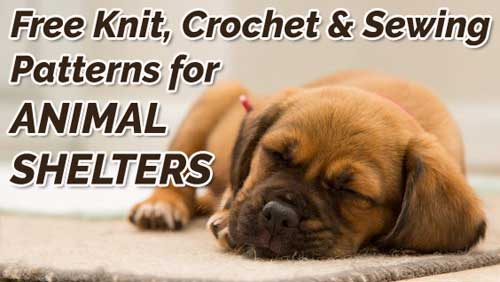 Here are a few more ideas of items you could knit or crochet, which could be sold to raise money to help animals. They include Easter themed items, and mug jumpers. The mug jumpers not only look cute, but can keep your drink hotter for longer too.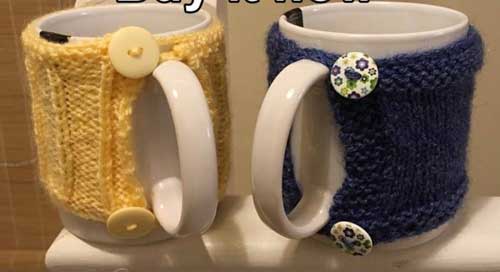 Make Sweaters and Jumpers Into Unique Dog Or Cat Beds
If you like crafting things and sewing, you can make an old jumper into a unique novelty pet bed. This can be sold to raise funds for an animal rescue shelter, or can be used by their animals.
If you have a real love of knitting, you could choose to knit the jumper to use, and make it the size, texture, colour and design you want to.
Image: Unique pet bed made from jumper or sweater. Image Source
The instructions on how to make this dog bed are by Autumn Stalker Herbal Crafts, and are here. You can use any sweater or jumper you like, as long as it is not loose knit (as the stuffing would then come through).
Image: Other instructions for making sweaters and jumpers into dog or cat beds. Source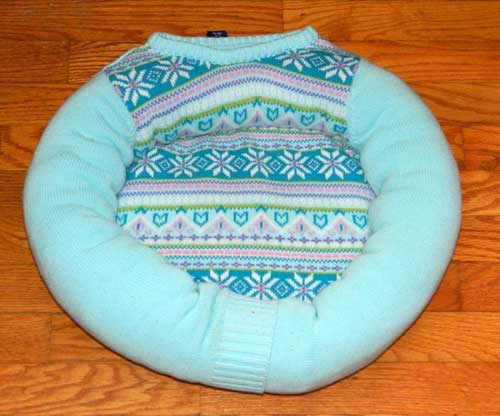 Image: More examples of jumpers and sweaters made into pet beds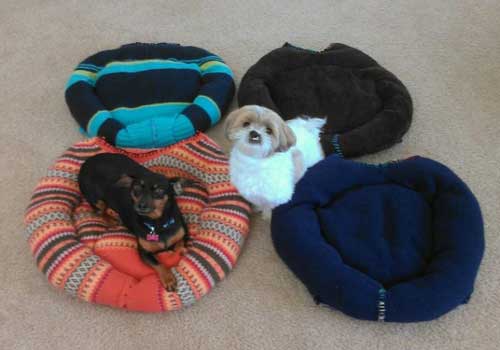 Where Do I Get Cheap Materials?
If you run out of your own materials, tell friends and family that you are crafting to help animals and appeal to them for the materials you need. You may find people have an excess of things you need, and are very willing to give you them for a good cause.
Other places you can find cheap wool, clothes and fabric are charity shops. If not charity shops, then discount stores and online. With some types of crafting, you may find materials in the environment.
Image: Balls of knitting wool can often be found cheaply in charity shops. Image Source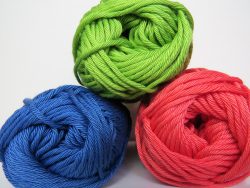 Many Other Ways To Help Stop Animal Suffering
Here are more ways to craft to help animals.
On this site there are many varied ways you can help animals and help stop cruelty. In fact, there are so many different ways that there is something for every personality type, no matter what their circumstances.
If you would like to learn more about why we so urgently need to help stop animal suffering, please see this website. It will allow you to broaden your knowledge of many different types of world wide animal abuse, giving you the ability to help animals by spreading awareness and answering questions people may have. Please be aware that you may find the information distressing.
One great way to help animals is to share the information you have seen on this website. Doing so means more people could help stop animal cruelty, and that would make you responsible for more animals being saved from suffering. Together we can help people help animals <3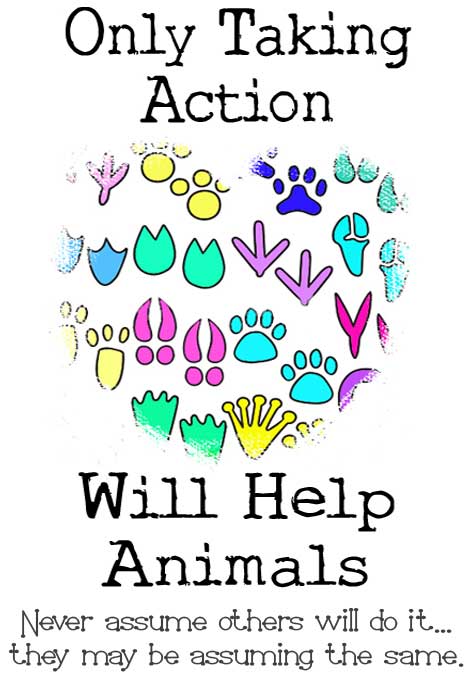 You Are Here:-

Comments
Would you like to share other ways you know about of helping animals by crafting? Would you like to share crafts you've done to help animals? We'd love to hear from you so please leave a comment below.