Visit our Facebook Page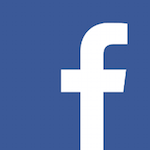 Click the button below to read a random site article

Share This Page

Introduction
Try using the free crafting ideas on this page to help animals in need. As these are "no-sew" ideas, you do not need any knitting, crocheting, or sewing skills.
By using these free crafting ideas, you can save the lives of innocent animals. Your generous work can either be used in the care of animals in rescue shelters and wildlife rehab centres, or to raise funds for them.
If crafting is something you like doing, you can enjoy yourself with these free crafting ideas and help animals at the same time..
If you wish to craft for a particular animal charity, it is very worthwhile contacting them to find out their current need for items, before using your time to make them.
Here are other ways of crafting to help animals.
No Sew Pet Bed To Help Animals
If you are like me and don't get along with sewing machines, making this no-sew dog or cat bed could be a perfect crafting idea for you.
You can make them to donate to animal rescues who could either use them for their animals, or sell them to raise funds.
Arizona Humane Society is just one of many rescues in the US asking for the help of crafters. They provide instructions for Kitty Cozies here. You may, however, find the instructions with pictures, below, easier to follow. AHS say they welcome the donations of Kitty Cozies at any of their locations, here. You can also contact them to see if they would be happy to accept donations of the blankets by mail.
How To Make A DIY No Sew Dog or Cat Bed
Pictures and Instructions Courtesy of howtothisandthat
This tutorial makes a dog or cat bed approximately 36″ x 30″ from 1 yard pieces of fabric. This can be adjusted to fit the size you need.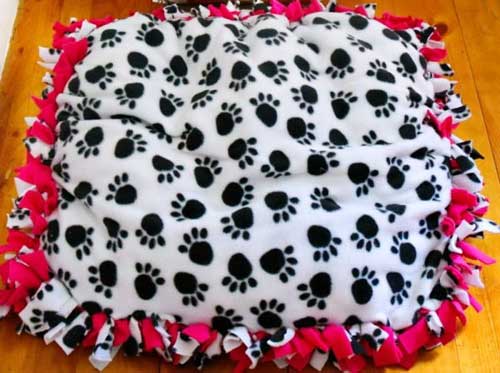 Materials
2 x 1 yard pieces of fabric of your choice (fleece was used in the photographs, but any other thick, hard wearing fabric that is comfortable for pets will do).
Scissors that cut fabric easily.
An inexpensive pillow. You can also use stuffing pulled out of an old duvet, or anything else that has suitable stuffing in it.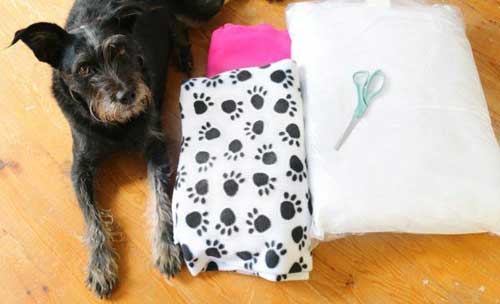 Instructions:
Lay the pieces of fabric, on top of each other. Trim any edges to even up them up so they are exactly the same size and shape, lying precisely on top of each other.
You may find it helpful to pin them from moving while you do the next bit.

Cut 3″ strips into the edge of the fabric, about 2″ wide, to create a sort of fringe.
Do this on three sides.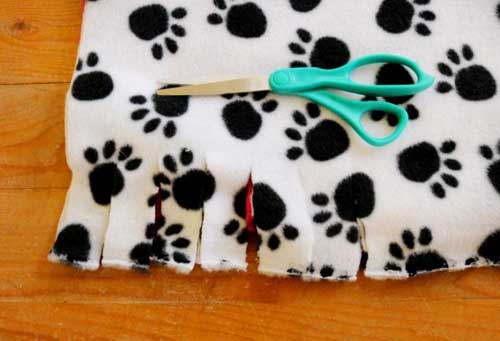 Grab each color fabric strip (top and bottom) and tie to each together in a knot. This is the "no sew" part! The strips of fabric will be tied up nice and tight to each other, holding in the stuffing.
Do this on three sides of the pet bed.
Remove the stuffing from the pillow and add it to the pet bed.
You can also use stuffing pulled out of an old duvet, or anything else that had suitable stuffing in it.
Fill it very full of stuffing, as with the dog or cats weight, it will quickly flatten.
Cut the strips into the last side of the pet bed, then tie them. Your no-sew pet bed is now finished.
Image: Adopted dog Yogi on the no-sew pet bed. Images and instructions for the no-sew pet bed courtesy of HowToThisAndThat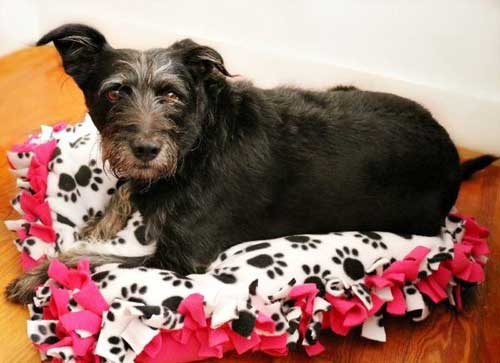 ---
Make A No-Sew Snuffle Mat
Snuffle mats fulfill the natural instinct dogs have to forage for food. Drop a few treats in amongst the fabric, and this boredem-busting mat will keep dogs occupied and mentally stimulated, enriching their lives.
You do not need to be able to sew to make a snuffle mat. It involves cutting fabric into strips, threading it through holes in a rubber mat, and knotting the fabric. You can help animal rescues and charities by making these for them to use in their fundraising events, or they may want to use them for animals in their care.
Image: You just need rubber sink mat (or similar) and strips of fabric to make a DIY snuffle mat to help animal rescues. Source
Find out how to make a snuffle mat here.
For the rubber mat you can use a mat like this sink mat, or a bigger and stronger one like this doormat, or an even bigger one like this bath mat. Any fairly strong rubber mat with holes in it should be OK to use, and you may be able to find something suitable very cheaply in discount store.
For the fabric, you can recycle old clothes, or use any fabric you have around the house.
Image: Make a snuffle mat to help animal rescues and charities. Source

If you would like your snuffle mat to help an animal rescue of charity, one way is to contact the Recycle For Rescues Donators Group on Facebook. They will help you put your mat in an online fundraiser to help animal rescues.
If you prefer, you can browse this Facebook group, where lots of animal rescues publicise their online fundraisers, and you can choose if you would like to donate your snuffle mat to any of those.
As always, animals should be supervised when playing with these mats.
Free Crafting Ideas For Easy Pet Toys
You can make these toys for a rescue shelter to sell to raise funds, or for them to give to pets waiting to be adopted.

T-Shirt Dog Tug Toy
Image: Recycle old T-shirts into dog tug toys to help rescue dogs. Image Source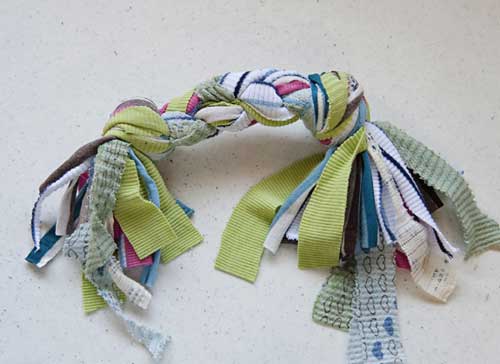 Here are instructions about how to make this dog tug toy.
The more strips of fabric you have in your piles, the chunkier and stronger the toy will be.

Super Easy T-Shirt Cat Toy
Image: This is a very simply made cat toy, which uses old t-shirt strips, or strips of other fabric. It can also be attached to a wooden rod with string. Image Source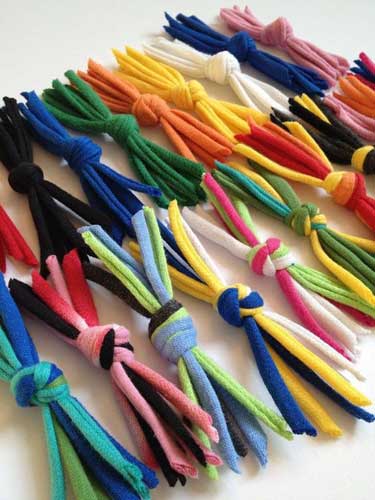 Step 1. Cut an old t-shirt into rectangular strips (approximately 8 inches long)
Step 2. Lay about five of the strips down together.
Step 3. Tie the strips into a big knot in the middle. That's it!
For cats in rescues, shelters or pounds, these toys are great to tie to the cage doors for the cats to play with. They are also good for cats boarded at the vet or going for a long ride in the car.

T-Shirt Toss 'n' Tug Dog Toy
The T-shirt Toss 'n' Tug Dog Toy is great to chew on, fling, chase, fetch, or have a game of tug with.
Image: No sew DIY easy dog toy that you could make to raise funds for animal rescues or to give to the pets in rescues. Image Source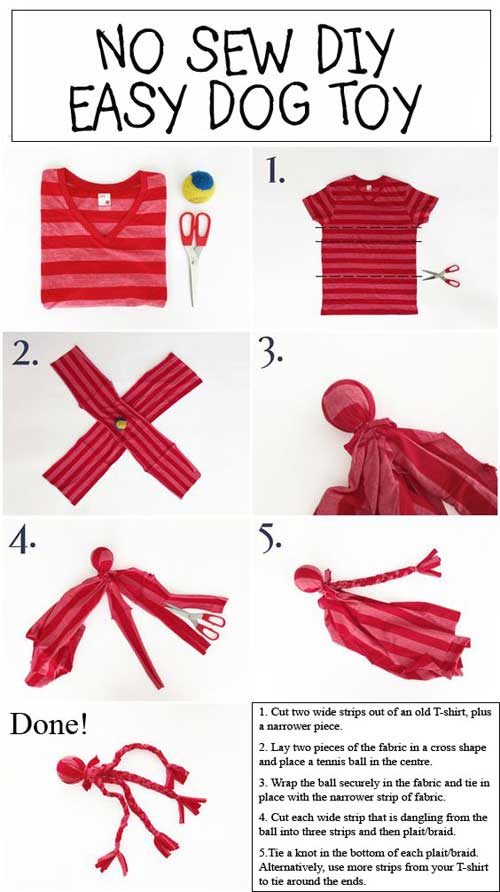 Instructions:
Step 1. Cut two wide strips out of an old T-shirt, plus a narrower piece.
Step 2. Lay two pieces of the fabric in a cross shape and place a tennis ball in the centre.
Step 3. Wrap the ball securely in the fabric and tie in place with the narrower strip of fabric.
Step 4. Cut each wide strip that is dangling from the ball into three strips and then plait/braid.
Step 5.Tie a knot in the bottom of each plait/braid. Alternatively, use more strips from your T-shirt to tie around the ends. The toy is now complete.
If you want the toy to have more "legs", you can either use more than two wide strips of fabric at step 2, and lay them down in a star formation, then continue with the remaining steps. OR, if you 'd rather just use two strips, make them wide enough to cut into six strips each for the legs, instead of just three (as seen in the picture below).
Image: You can also make it prettier, which means it may sell better to raise funds for animal rescues, but make sure anything you use is safe for pets. Image Source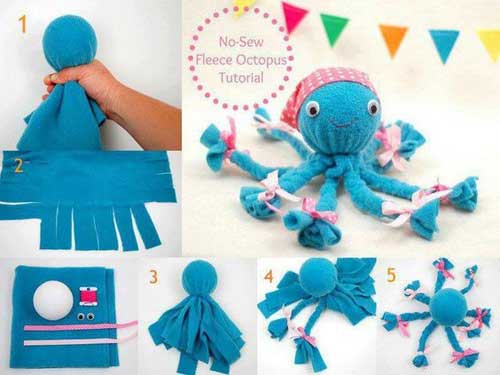 You could also adapt this toy to be a cat toy, adding catnip to it.

Make Wooly Wand Cat Toys
Battersea Dogs and cats Home in London are appealing for people to create cat toys, such as the "Wooly Wand". Technically, this does not involve any actual knitting or sewing, but it does use knitting wool and occasionally a needle. It is easy though, so don't be put off.
Image: Create Woolly Wand cat toys out of string and wool, to help animal rescue Battersea Dogs And Cats Home. Image Source

No Sew Rope Treat Ball
You can make a ball like this out of rope and pop little treats in the gaps.
This page shows you how to create this ball using just rope and a few knots.
Image: Make a no-sew treat ball from rope. Image Source
Make Wooden Hanging Signs
One example of a fairly easy bit of crafting, is to create the shabby chic wooden heart and wooden bone shaped hanging signs, below.
Simply buy wooden shapes with a hole in them, either from a craft shop or online, then paint them with cream, grey, or another "shabby chic" style coloured paint. I use tester paint pots of emulsion.
Write an amusing animal related slogan on them in permanent pen or oil based paint pen (after doing it in pencil first to get it right!).
Finally, thread a cream ribbon, or whatever you like, through the hole.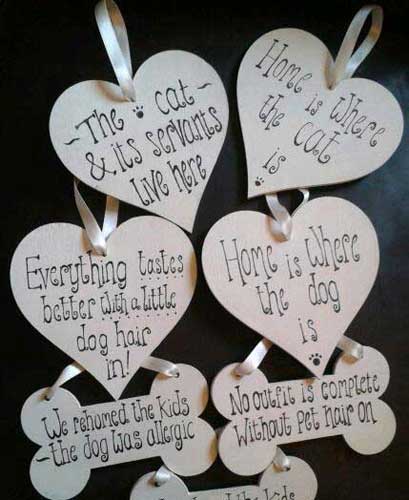 More Free Crafting Ideas
You can do any kind of crafting, knitting or sewing for charity you like, and there are many more free crafting ideas online that do not involve the need for knitting, crocheting, or sewing skills.
People have different crafting skills. Whatever your crafting skill, you can use it to help stop animal suffering.
Up-Cycle Old Greetings Cards
Find out on this page ways you can re-fashion old greetings cards, gift tags and gift wrap into items items that can be sold to help stop animal suffering,
Bake Cakes
Cake baking is a craft, and if it is where your strength lies, you can use that strength to help animals. If you do not want to hurt any animals when you make your cakes, make vegan versions of them instead. Vegan cakes are very popular when sold on online auctions and sales to help animals.
Join Recycle For Rescues
A good Facebook group that is great to join if you think you may be interested in crafting, knitting or sewing for charity, is the Recycle For Rescues Donators Group. If you would prefer to support them by buying finished items as opposed to making them to help animals, see the Recycle for Rescues group for what people have made and are selling.
Where Can I Get Cheap Materials?
Tell friends and family that you are crafting to help animals, and appeal to them for the materials you need. You may find people have an excess of things you need, and are very willing to give you them for a good cause.
Other places you can find cheap wool, clothes and fabric are charity shops. If not charity shops, then discount stores and online. For certain types of crafting, you may find materials in the environment.
Many Other Ways To Help Animals
Here are more ways you can craft to help animals.
On this site there are many varied ways you can help animals and help stop cruelty. In fact, there are so many different ways that there is something for every personality type, no matter what their circumstances.
If you would like to learn more about why we so urgently need to help stop animal suffering, please see this website. It will allow you to broaden your knowledge of many different types of world wide animal abuse, giving you the ability to help animals by spreading awareness and answering questions people may have. Please be aware that you may find the information distressing.
One great way to help animals is to share the information you have seen on this website. Doing so means more people could help stop animal cruelty, and that would make you responsible for more animals being saved from suffering. Together we can help people help animals <3
You Are Here:-

Comments
If you know of other ways to help animals through crafting, or if you'd like to let us know what you've been crafting to help animals, we'd love to hear from you so please leave a comment below.