Visit our Facebook Page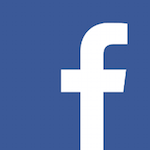 Click the button below to read a random site article

Share This Page

Introduction
If you would like to craft to help animals, there a number of fantastic craft groups that you can get involved with. There are online groups for if you knit, crochet, sew, or craft in other ways. Animal charities and rescues register with these groups and organisations if they are in need of crafted items. These online crating communities are friendly and encouraging places, where you can share your love of crafting and helping animals.
In addition to the groups on this page, there are other places you can donate your crafts for animal rescues and charities, here.
Image: Craft to help animal rescues and shelters. Image Source
Fibers For Fido
Maggie Franz started FibersForFido.org after she had to do some research into US animal charities and rescue shelters for her job. Her heart broke for the poor abandoned animals she learned about. She wanted to do something to help, and noticed that the rescues needed sweaters and blankets for the animals.
Image: Fibers For Fido also has a Facebook page you can get involved in if you would like to craft to help animals.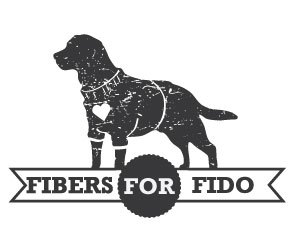 As a keen knitter, Maggie decided to start knitting sweaters and blankets for the rescue dogs. She realised that, as it takes time, she needed more people to come on board and do the same. That's when FFF was born.
Fibers for Fido has established partnerships with six animal shelters so far to provide donations of sweaters and blankets. These include the Butler County Humane Society, Strayhaven Animal Shelter in Greenville and several in eastern Pennsylvania. All animal shelters in the Tri State area are eligible to sign up.
Image: Maggie Franz, who started Fibers For Fido. People knit and sew dog coats and blankets for animal rescue shelters through her organisation. Her dog is modelling a jumper she knitted. Image Source
The Snuggles Project
In the United States, there are shelters that accept knitted and sewn items through the Snuggles Project.
The Snuggles Project was started by the President of Hugs For Homeless Animals twenty years ago. The idea was to provide frightened shelter animals with some comfort in the form of "Snuggles", which are blankets. Since its inception, millions of snuggles have been donated to animal shelters who have registered to receive them.
The Snuggles Project has a Facebook Page and Facebook Group you can join to receive encouragement, guidance, and support.
In their pattern library, you can find ideas of what type of snuggles or toys to make. This can be through sewing, knitting, crocheting, or creating in other ways.
They also invite people to send them their favourite snuggle blanket patterns and ideas.
Image: The Snuggles Project sends the work of knitters, sewers and crocheters to animal shelters. Image Source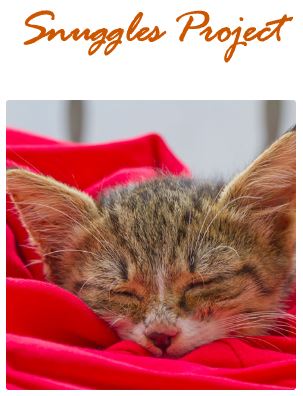 Comfort For Critters
Comfort for Critters is a volunteer program that creates free handmade blankets to comfort homeless pets living in animal shelters across the US. While these pets await adoption, the blankets provide a comfortable bed.
Image: Homeless animal rescue shelter kittens on a Comfort For Critters hand made blanket. Image Source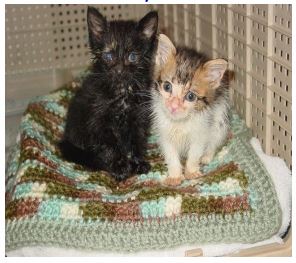 When they are adopted, their blanket goes with them, providing something familiar as they adjust to their "forever family."
Animal rescue shelters register with Comfort For Critters to receive these blankets.
There is also a Comfort For Critters Facebook Page and Group, where you can find a supportive community.
Image: Make hand made blankets to donate to animal rescue shelters through Comfort For Critters. Image Source

Through Comfort For Critters, people who wanted to craft to help animals have donated over 41,000 handmade blankets to animal shelters so far. On this page of their website they have instructions for making the blankets. They also tell you where you can drop them off or send them to.
Wrapped In love

Wrapped In Love describes itself as a family of crafters who just happen to love dogs and cats and share the mission to wrap the animals in love. They do this by making blankets to donate to animal rescue shelters
If you want to craft to help animals in rescues, you can sew, crochet, knit, knot, quilt, or make no-sew blankets and other items. Join their Facebook group to get all the help you need from the W.I.L community.
Image: Join Wrapped In Love to make blankets, bandanas and other items for animal rescue shelters. Image Source
Wildlife Rescue Nests
Wildlife Rescue Nests based in Canada, distributes nests to wildlife rescues all around the world. These nests are crocheted and knitted by volunteers.
They are used for not only birds, but all sorts of animals who have been orphaned, injured, or who are unwell. The use of these nests increases the chances the animal will survive.
Their list of wildlife rescues needing nests is always growing, so they are always in need of new volunteers to make them.
You can become part of their community through their website, or their Facebook page.
Image: You can craft to help animals by knitting or crocheting a nest to save wildlife. Image Source
Egypt Equine Aid
EEA helps horses, donkeys and mules in Cairo, Egypt. They help teach their owners how to better care for them, treat the animals wounds and injuries, and provide equipment to make being a working equine less painful for them.
They need crafters to make eye veils, eye masks and nose bands for the equines. This equipment can save them from getting terrible diseases that flies carry, and excruciatingly painful wounds.
Join then EEA supporters community at their Facebook page, and find patterns and instructions for items to make.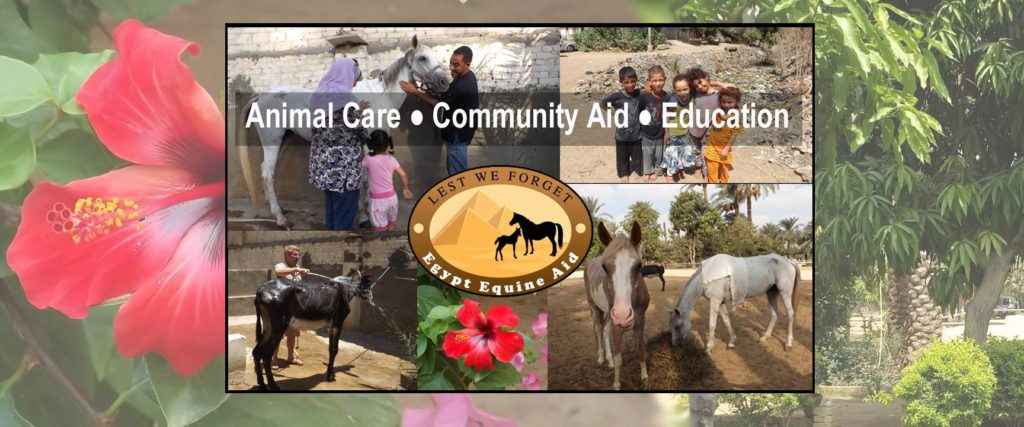 The Animal Rescue Collective Craft Guild
The Animal Rescue Collective Craft Guild ask for people to craft items needed by animal rescues around Australia. During the long Australian bush fires season, items are needed to help treat the burns of surviving wildlife, as well as other conditions and injuries relating to the wildfires. They have both a Facebook group and Facebook page, where you can find patterns for making items, and keep up to date with what is needed.
Image: Australian fires cause a vast increase in animal rescues and refuges needing your help.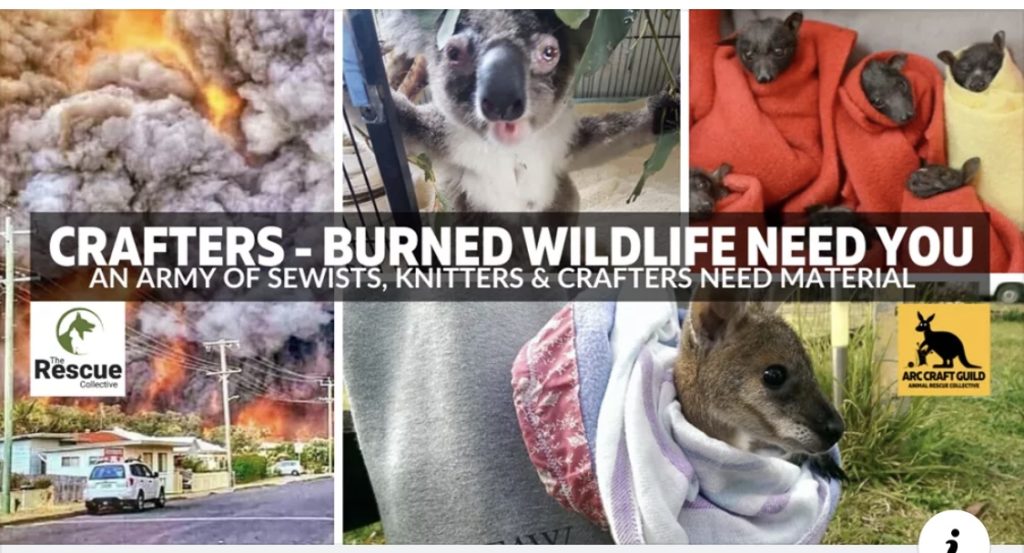 The ASSWIN Project
The ASSWIN Project is in need of volunteers to create thick blankets large enough to go over a working donkey's back in India. These blankets help stop the donkey's skin being quickly rubbed away by their heavy loads. Without them, painful wounds are quickly caused. The donkeys do not get veterinary treatment and are still made to work in agony. The ASSWIN Project help educate the donkeys owners about the best way to care for their working donkeys. They provide them with padding and a range of other equipment that has been crafted by their volunteers. ASSWIN also rehabilitate injured donkeys.
If you would like to craft to help animals, you could make items to help these donkeys. Volunteers are always very welcome at The ASSWIN Project Support Group on Facebook.

Image: You could help working donkeys in India by knitting, sewing and crafting for The ASSWIN Project. Image Source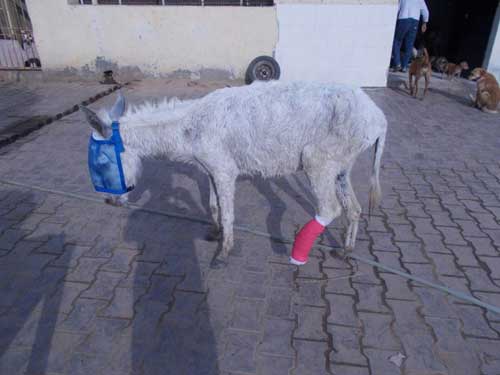 I Love Crafting Friends & Supporters Group
The I Love crafting – Friends And Supporters group on Facebook, run by Ninia Macasil, is a group of people who want to craft to help animals. They craft items to help animal rescues raise funds. People in the group let each other know about the animal rescue fundraisers they are helping by donating their crafts to. Anyone interested in crafting to help animal rescues will receive encouragement and support if they join this group.
Image: Join this Facebook group if you are interested in crafting to help raise funds for animal rescues. Source

Image: Just some of many "I Love Crafting" crafts that have helped animal rescues. Source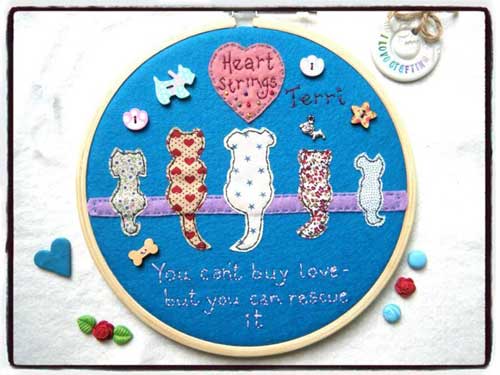 Recycle For Rescues
Recycle For Rescues is a group on Facebook where the work of people who craft to help animals is auctioned. All money raised goes to help animal charities and rescues. Recycle For Rescues warmly welcome all types of crafters into the Recycle For Rescues Donators Group on Facebook.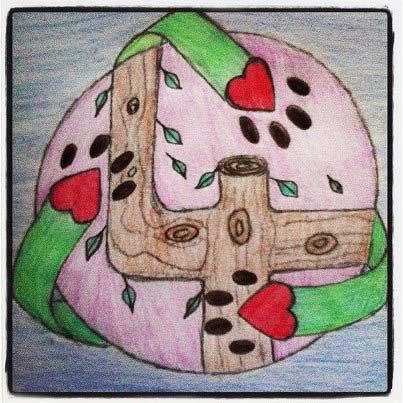 Wool Needed For Rescues
Wool Needed For Rescues, is a community of volunteers who knit squares for patchwork quilts. Sue, who runs the page, sews the patches together and the finished blankets are donated to animal charities and rescues.
If you would like to help rescue animals by either knitting a square, or donating some wool to the project, message Sue on the Wool Needed For Rescues Facebook page.

Image: You can craft to help animals in rescues by knitting squares to be sewn together to make patchwork blankets. Source

Many Other Ways To Help Animals
Here are more ways to craft to help animals.
On this site there are many varied ways you can help animals and help stop cruelty. In fact, there are so many different ways that there is something for every personality type, no matter what their circumstances.
If you would like to learn more about why we so urgently need to help stop animal suffering, please see this website. It will allow you to broaden your knowledge of many different types of world wide animal abuse, giving you the ability to help animals by spreading awareness and answering questions people may have. Please be aware that you may find the information distressing.
One great way to help animals is to share the information you have seen on this website. Doing so means more people could help stop animal cruelty, and that would make you responsible for more animals being saved from suffering. Together we can help people help animals <3
You Are Here:-

Comments
Do you know of any information that you think should be included in this page? Do you have anything to add? We'd love to hear from you so please leave a comment below.