Visit our Facebook Page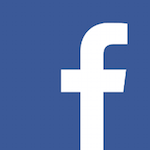 Click the button below to read a random site article

Share This Page



You Are Here:-

Introduction
Fundraising for charity can be done through running charity stalls at local events. Look in your local area for carnivals, fĂȘtes, festivals, and similar community events.
IMPORTANT: You must contact animal charity or rescue with your intentions. This is to avoid being accused of dishonesty when accepting money in aid of the charity. Many animal charities or rescues offer support and publicity to help you. With the charity's blessing, contact the organisers of the community events you find, and ask if you can hold a charity stall there.
If you can, survey the supporters of the charity to find out what kind of stall(s) they would most like to see. Ask the animal charity if you can do this on their social media pages.
Aside from the ideas on this page, of stalls to run when fundraising for charity, we have other fundraising ideas. On this page you will find some easy fundraising ideas. If you are interested in seeing charity events and activities you could arrange, from small to larger ones, have a look at this page.
Image: Fundraising for charity: Ideas of stalls to hold. Sourceï»ż
Publicity For Your Stall
It is vital to publicise your charity stall as widely as possible. Use as many media types as you can.
You can ask your family and friends to help you spread the word using social networking sites. There are many pages and groups related to local areas on Facebook, for one. There may even be pages or groups related to local area fundraising.
Search for them and use them to publicise your stall. You should share posts about your stall, and what event it will be at, as often as possible. Do it in as many appropriate places as you can find. Get the help of family and friends.
Get The Charity's Help
Ask the charity you are raising money for if they could publicise your stall on their website or social media pages. Ask them to encourage their supporters to share the posts. Enquire whether they will promote it on their premises using posters and flyers for volunteers and visitors to see. Also ask if they could promote it in their newsletter. You yourself may be able to post about it on social media site pages related to the animal charity.
Use Local Media As well As Online
Have it announced on the local radio if possible, or on their websites. Use local publications to advertise it, both on their websites and in their newspapers and magazines. This may be an additional cost that will have to come out of the money raised, unless you pay for it yourself.
If it is children who are running the stall, you could approach local publications to see if they could write about what they are doing, or at least give it a mention. If you can give them a good story behind their motivation, they may be willing to write a piece about it.
Ideally, posters should be colourful, eye catching, clear and not too cluttered. It is essential to have all the necessary information on them. They should be displayed in your local area.
Here are some suggestions of where they can be displayed:
Some supermarket noticeboards
Workplaces
Community noticeboards
Inside car windows
Shop windows
Church and community halls.
Get as many people as you can to help you get the message out by displaying posters and distributing flyers.
If you have enough volunteers to deliver them, you could even post leaflets through peoples doors.
Image: Example of a bright, clear and colourful animal charity fundraising event poster. It can be displayed in the community and in online posts. Source
Fundraising For Charity With A Tombola
Tombola is often a successful way of fundraising for charity. This game of luck is usually quite popular with people. You have to be over 16 years old to run a tombola in some areas. However, people under sixteen can usually still help on the stall.
There are a couple of different ways you can organise and run a tombola that I know of.
The First Way:
You can use cloakroom tickets bought from a stationery shop. Fold each number up and put them in some kind of container for people to pick them out of. A new/unused prize is normally allocated to every number ending in zero and five. Some tombolas only give prizes for tickets with numbers ending in zero. This happens especially when the prizes are good or ticket prices low. The prizes should have the duplicate tickets stuck on them.
Disadvantages of this method are that there is a lot of work involved in ticketing all the prizes. Also, sometimes all the big prizes can be won early on, which means you are left with only cheaper prizes. These do not attract people to the stall as effectively.
Advantages of doing it this way are that once you have done all the initial hard work, there is not as much work to do when running the stall.
Image: Tombola drum for a stall fundraising for charity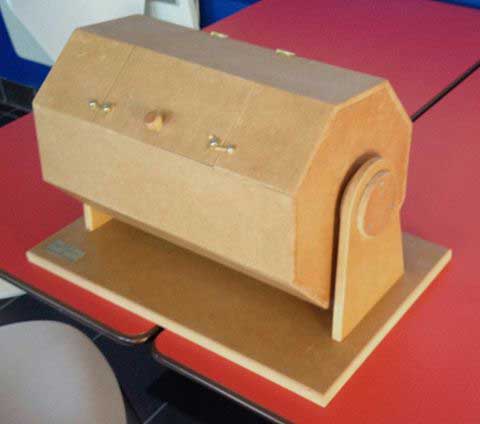 The Second Way:
Rather than using cloakroom tickets for people to pick out of the tombola drum, you can use reusable items. I collect plastic bottle tops and write the numbers in them. They can then be handed back and re-used.
A certain number of prizes are initially put out and the rest are held back. The prizes that are put out are labelled with numbers ending five and zero. The numbers should be easily removable from each prize, as they need to be put on the prizes that replace them. All the bottle tops picked out of the tombola drum by customers must be handed back and put back in the drum. Alternatively, they can be dropped in a box by customers, which is often easier. They are then collected by stall volunteers who put them back in the tombola drum. Any prize won need to have the number taken off it, and placed on the prize that replaces it on the table. You should always have a good range of prizes on the table, from cheap to some more expensive prizes. The expensive ones often attract customers.
Disadvantages of doing it this way is that there is much more work to do whilst running the stall. For instance, you have to take payment, find prizes people have won, get their bottle tops back from them or make sure they drop them in the allocated box, take the number off the prize that has been won and put it on a replacement prize.
Advantages are that you always have at least some good prizes on offer to win, plus there is no litter of used tickets.
Prizes And What To Charge
The prizes can range from cheap prizes, such as a pen, to good prizes, such as a bottle of wine or spirits. You can try to get prizes donated by appealing online and asking the charity to appeal too. If you are willing to, you could buy some bargains. You may find some of those in animal charity shops.
Tombolas usually charge ÂŁ1 for between 3 and 5 goes. They sometimes also charge between about 40p and 25p for if someone wants a single go. Children often look for somewhere they can spend their last pennies at these events. If you are at an event where other tombolas are operating, your efforts at fundraising for charity will be most successful if you do not charge more than the other tombola stalls.
There are variations of a tombola themed games, where instead of picking a number out of a drum or container, it is done like this:
Numbered tickets are rolled up in straws
Numbered bottle tops are hidden in cups of sand which customers tip out.
Below: A tombola stall fundraising for charity. Image Source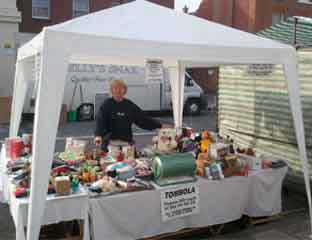 Guess The Name Of The Dog
A "Guess The Name Of The Dog" stall is a way of fundraising for charity that is often popular with children.
For this, you need a large toy dog as the prize, and a form with at least 30 dog names on it. You can often find pristine looking large dog toys in charity shops for a bargain price. Since it is for a good cause, maybe someone would donate one if one is appealed for.
People pay 50p or ÂŁ1 then write their name and phone number in a space next to the dog name they choose on the form.
There are two ways to choose the winning name:
It can be chosen before hand, then sealed in an envelope. The envelope can be attached to the form or dog toy. Back up winning names should be chosen in case the winning name does not get sold.
All the names sold are put in a container and one is picked out.
Image: A 'Guess The Name Of The Dog" game, fundraising for charity. Image Source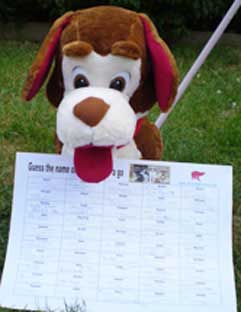 'Cover The Coin' Game
This is where you have a wide bottomed container, like a plastic sink basin, full of water. There is a pound coin put at the bottom, in roughly the centre. You also need a good supply of two pence pieces and a few pound coins for prizes.
You can charge 50p for ten goes, or whatever you think people will be willing to pay.
The aim of the game: To drop the two pence piece into the water and get it to land completely covering the pound coin. Anyone who succeeds in doing this, wins the pound coin.
You can use alternative coins, such as a two pound coin as the prize and ten pence pieces to play. The rules can also be slightly altered, to give people more of a chance, by making it that if the dropped coin overlaps the prize coin at all, it wins.
Image:Â You will need lots of two pence's to run this fundraising for charity game stall.
Have A Lucky Dip / Bran Tub
Lucky dips can be a good way of fundraising for charity where there will be children at an event.
You can fill a large tub with wood shavings, sand, shredded paper or similar material, and bury new prizes in it. Alternatively, you can wrap the prizes up. In case any buried prizes become unburied, you can cover the top of the tub. You will need to leave an opening large enough for hands and prizes to fit through.
It is a good idea to have one for girls and one for boys, unless all your prizes are suitable for both genders. You should also state on signs what age ranges the lucky dip is suitable for.
It is usually a pound a go and the person wins a prize every time. When buying the prizes, they obviously have to have cost less than a pound each, otherwise there will be no money made for the charity. Prior to holding the stall, you can appeal for prizes to be donated, with the help of the animal charity, You could alternatively scour animal charity shops and cheap shops for prizes. You may alternatively be willing to buy some prizes yourself.
Below: A Lucky Dip / Bran Tub stall that is fundraising for charity.
The 'Guess How Many Sweets In The Jar' Game
You need an impressive looking jar full of sweets that nobody would be able to count just by just looking. People usually pay around ÂŁ1 for a guess of how many sweets are in the jar. They leave their name and telephone number. The person who guesses nearest to the correct number wins the jar of sweets.
It would be best for animals if the sweets used for this had no animal products in them, (were vegan). This is because many animal lovers are vegan and more money will be made with their support. Also, no animals should be sacrificed in the fundraising activities of an animal charity.
Below: A 'Guess How Many Sweets Are In The Jar" game, fundraising for charity. Image Source
Fundraising For Charity By Face Painting
A face painting stall is a good thing to have at a charity fun day when there will be children attending. You don't have to be a pro – I have done face painting at a charity fundraiser. I can tell you though, if the stall is popular, it is very hard work!
Not being a professional face painter, I found simple face painting designs online that were easy to copy, such as animals and superheroes. I also found other designs that had elements I liked, so incorporated them into the designs to improve them. After practising them on some volunteers, I took photos. I printed those pictures out and stuck them up on the stall for children to choose from.
I think we charged about ÂŁ2.50 each, but that was a while ago. Charge whatever you think appropriate.
Image: a fundraising for charity stall: I did simple face painting designs I found online that were easy to copy and improve.
Have A Car Boot Sale Stall
You could run a fundraising for charity stall at a local car boot sale.
Contact the animal charity you would like to support and ask them if they could appeal for items to sell on your stall. You can also collect items from family and friends.
Look for a local car boot sale that is very well attended, with lots of stalls there. You will have to book your stall in advance. You will be charged a fee, usually between ÂŁ5 and ÂŁ10 for a table. Some events may offer stalls that are fundraising for charity a reduction. You can arrange with the charity to take the stall cost out of the proceeds.
Once you know where and when you will be holding your stall, ask the animal charity or rescue to publicise it. Also ask them to appeal for volunteers to help, if needed.
Image: Stalls Fundraising For Charity: Run a car boot or bric-a-brac stall in aid of an animal charity or rescue.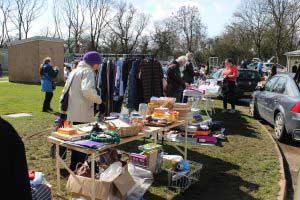 Have A Cake / Biscuit / Confectionery Stall
For people who are good at baking, cake, biscuit and confectionary stalls usually go down well.
The following suggestions are usually popular:
Mars Bar cake
Victoria sponge
Cup cakes
Sticky flapjack
Chocolate cake
Cookies
Fudge
Tablet
Toffee
Make as many of them as possible using alternatives to animal products. This way you are not sacrificing animals to raise money for an animal charity. You will also be including vegans and people with an intolerance to animal products in your customers.
Also selling cheap drinks on the stall can be successful when fundraising for charity.
Having some sandwiches and other savoury snacks also appeals to people who prefer savoury snacks to sweet. Again, avoid animal products.
As long as they can survive through the mail, you can also sell some of these cakes, biscuits & sweets online, through online charity auctions and sales. People often buy these as gifts for other people.
Image: Teta Crow raises funds for Compassion In World Farming by selling cakes at her local market. She bakes them ethically by only using eggs from ex battery hens she saved from slaughter by adopting them. This was after they spent their life cruelly trapped in a tiny cage. Image Source
Fundraising For Charity By Holding A Raffle
With the permission of the charity you are running the raffle for, you can try to charm local businesses in to donating prizes. The better the prizes, the more people you will have wanting to buy tickets. Appeal online for prizes, and ask the charity to do the same.
Then all you need is a book of raffle / cloak room tickets which you can purchase from stationary shops.
Below: Raffle ticket image. Image Source
More Ways of Fundraising For Charity
For some easy ways to raise funds for animals, have a look at our Easy Fundraising Ideas page, here. If you are good at organising, and think you could arrange a charity event or activity, have a look for ideas, here. They range from small, simple events and activities, to larger ones. Here are even more ways to earn and raise funds to help animals in need.
Many Other Ways To Help Stop Animal Suffering
On this site there are many varied ways you can help animals and help stop cruelty. In fact, there are so many ways that there is something for every personality type, no matter what their circumstances.
If you would like to learn more about why we so urgently need to help stop animal suffering, please see this website. It will allow you to broaden your knowledge of many types of worldwide animal abuse, giving you the ability to help animals by spreading awareness and answering questions people may have. Please be aware that you may find the information distressing, especially if you are a more sensitive person.
One great way to help animals is to share the information you have seen on this website. Doing so means more people could help stop animal cruelty, and that would make you responsible for more animals being saved from suffering. Together we can help people help animals <3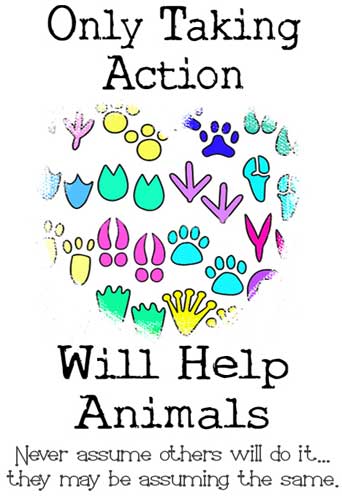 Comments
Do you have information you would like to share? Or have you spotted a mistake? Please leave a comment below.