Visit our Facebook Page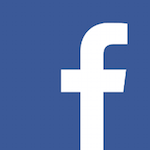 Click the button below to read a random site article

Share This Page

Introduction
There are many easy fundraising ideas you can do to help animal charities and rescues. This page explores a variety of these easy fundraising ideas. They are either free, or very low cost.
Some of these easy fundraising ideas can be done at home on your own. Others are easy things you can do at work, or easy things you can do in your every day life. Most of them do not involve much effort or organisation, if any.
Aside from the easy fundraising ideas on this page, we have a page exploring charity fundraising stall ideas, here. In addition, we have ideas of small to large charity events you could arrange, on this page.
Image: Easy fundraising ideas to raise money for animal charities and rescues
Have An Animal Charity Collection Tin In Your Work Place
As far as easy fundraising ideas go, having a collection tin in your workplace is very easy. It is best to have it next to the cash till, where people pay. One kind lady I know of asks for all tips to be directed into the animal charity collection box in her workplace.
This easy fundraising idea is suitable for if you work:
In a shop
In a pub
A cafe or Restaurant
A hairdresser/barber shop
Anywhere the public frequent
Anywhere a large number of people are employed
It is important to secure the charity tin so nobody can steal it. It needs to be placed in a prominent position. Simply contact the local branch of the animal charity you wish to support to ask for a collection tin. Whenever the collection tin is full, contact them for it to be collected. The collection tin should not be opened by anybody but the charity. The charity can put a seal on it so they will know if it has been tampered with.
Image: A Scottish SPCA charity collection tin. Source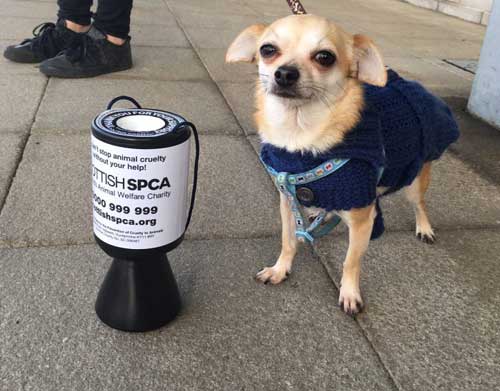 The 'Grow Your Money' Challenge
This is where people all pledge an identical amount of their own money at the same time, for example £5, and do whatever their imagination comes up with to grow it to as much money as they can. Everyone hands in what they raised on a certain date.
Here are just a few ideas of what the money could be used to do:
Buy ingredients and bake cakes to sell
Buy craft materials to make items to sell
Pay for a car boot sale stall to sell items they clear out from their home.
You can challenge yourself to do it, or you and some friends can challenge each other to do it. It is a bit of fun that benefits animals in desperate need. All proceeds people make can go to the animal rescue or cause of their choice, or one agreed by all participants.
This fundraising exercise can also be run from a fundraising page, online. In that case, the proceeds all go to the animal charity or rescue it was run in aid of. Prizes can be given for the people who have grown their initial amount of money the most.
Image: One way of growing your investment is by buying ingredients, the baking and selling cakes in your workplace or to friends and family. Source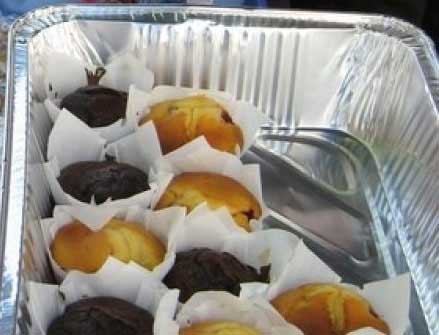 Pop Your Pennies In A Jar
When your pockets or wallet get heavy and bulky with coins, empty the low value coins out of them. Pop them into a large jar, bottle, tin, money bank or other container. It will stop you having to carry the extra weight around, and it will help animals in desperate need.
This is a good way of fundraising for charity entirely on your own. However, if you wish, you can involve family members too. see how much you can raise for animal charities and rescues together.
When the container gets full of coins, empty them into a bag and hand it in to the charity or rescue you wish to support. They will be very grateful for the funds.
If you would like to know how much you have raised, you can count the coins yourself, or you could ask the charity to count them and let you know the amount. In some banks, there are machines where you can empty the change you have collected into them. The machine will count it and the bank will credit your account with the amount. You can then donate the amount to the animal charity from your bank account, for instance through the charity's website.
Image: Fund raise for animal charities by putting small change in to a jar and then donating it when full. Image Source
Go Without Something
If you regularly treat yourself to tasty but unhealthy snacks or drinks, this challenge can do both you and animals good at the same time.
Image: Disposable coffee cups contribute to landfill and litter problems, which harm wildlife. Giving up take out coffee could help animals by you saving the money and donating it. Source
You might be a regular consumer of things such as cups of coffee, fizzy pop drinks, chocolate bars, bags of crisps, or other junk foods and drinks. By temporarily giving them up and putting the money for them aside, it benefits both you are the animals: your body gets a break from junk food, and animals in need receive a donation of the amount of money you saved.
If the piece of junk food you give up has animal products in it, you will also help save the lives of animals who would otherwise be slaughtered to replace the animal products you bought.
Image: Fund raise for animals by giving up one piece of junk food. It will benefit both yourself and animals. Source
Have A Pet Food Collection Bin In Your Shop Or Work Place
If you own a shop, you could have a charity pet food collection bin in it. This is where people donate pet food to a local animal rescue charity/rescue. If you work in a shop, you could approach the owners / management with the idea.
The way this raises money is by saving the animal charity / rescue money that would have been spent on buying food.
Most charity pet food bins are situated in shops which sell pet food, so people can buy some food to donate while they are in the shop. Other people bring in food from home to their work place collection bin. Sometimes the collection bins also ask for pet toys and other equipment the animal charity or rescue needs
When contacted, many animal rescue charities provide the pet food collection bins, as well as a volunteer to empty the bin when it gets full.
The collection container used is usually a large box, a large bin, or a wheely bin. The latter is easiest for volunteers to take to their car and empty, because it has wheels. They make the job a lot easier – trust me, I've done it!
The container should be clearly labelled with large lettering and images, colourful if possible, as this makes it more eye-catching. It should be placed in a prominent place, usually near the door, so shoppers see it.
If you do not own a shop, you could approach local shops that sell pet food, to see if they would have a collection bin to help the animal charity or rescue.
Image: A Large bin is used to collect pet food donated by generous shoppers, in aid of Action Programs For Animals. Source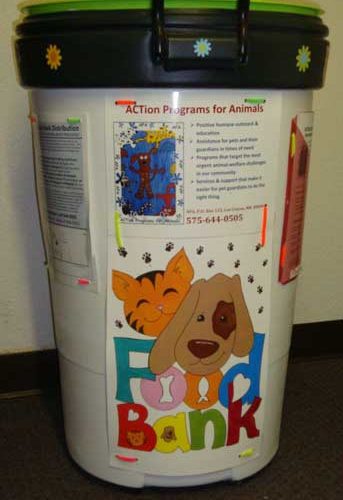 Declutter And Donate
You can declutter your house and raise money for animals at the same time. When you donate items to an animal charity shop, or to an animal rescue to sell on car boot sale stalls, you will turn those items into money the charity or rescue desperately needs. Have a look at more details, here.
Take Part In A Sponsored Activity Or Event
You can fund raise for an animal charity or rescue by doing a sponsored activity. This can be done on your own, with a friend, or with a group of people.
Just a few suggestions of sponsored activities you could do:
Silence
Bungee or parachute jump
Bike ride
Walk
Dog walk – maybe in fancy dress
Swim
Sit in a bath of baked beans in public all day
Shave your hair off
Your family or work colleagues may be quite keen to sponsor you if it is to do something funny and embarrassing. For example, you could be sponsored to only be allowed to move if you move in the style of interpretive dance!
Image: Get sponsored to only move in the style of interpretive dance. Source
Get Lots Of People To Sponsor You Or Just One!
If you want to, you can keep it small and just get your family to sponsor you to do something. If your partner or spouse says you never stop talking, tell them you will do a sponsored silence if they sponsor you a certain amount for every full hour you stay silent. That's only one person sponsoring you, but it can still be worth it.
You could also look out for your local animal rescue or charity organising events such as sponsored walks that you could take part in.
If you contact the animal charity you are doing your sponsored activity for, they may have official sponsor forms for you to use. They may also support you in other ways and help you gain sponsors. You can set up an online donation page where people can sponsor you. Ask your friends and the charity to share posts about it on social media.
Image: People fundraising for charity by doing a sponsored dog walk. Image Source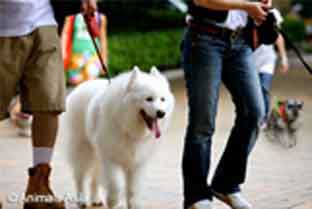 Another thing you can get sponsored for taking part in is charity challenge events. These can be organised charity runs, walks, obstacle courses, swims, colour runs, etc. In the large events, hundreds or thousands of people take part in the same event at the same time.
Offer Your Services, Or Vouchers For Your Business
If you have time and an ability/service you could offer, you could earn donations for an animal charity. You could ask the charity you wish to fund raise for to advertise your offer on their social media pages. You could also offer services in a fundraising auction, such as the online auctions on this page.
Professional Or Not – It Does Not Matter
It is not necessary to be a professional at something – anything you are happy to do could be suitable. For example, you could offer to do dog walking, baby-sitting, sewing, cleaning, ironing, or other housework. Other things you might like to offer may be gardening, car washing and valeting, chopping wood for fires, DIY, house-sitting and animal-feeding, shopping and other errands. I for one would happily pay for such things if the money was going to help animals!
Image: Doing cleaning or other housework are ways you can help fund raise for animals. Source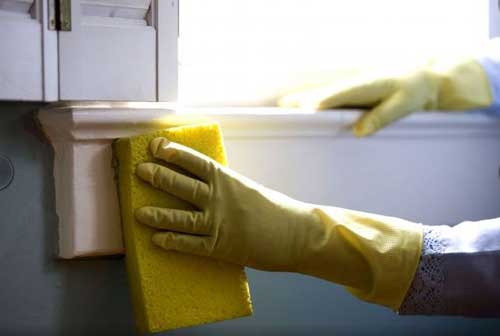 People I have seen offer their services in online fundraisers to help animals are:
Body piercers and tattooists
Painters and decorators
Hairdressers, odd jobs people
Cleaners
Personal trainers
Animal portrait artists
Clothes makers
Dance teachers
Singing teachers
Music teachers
Educational tutors
Psychic mediums
Tarrot card readers
Alternative therapy practitioners
Dog trainers and behaviourists
Seamstresses
You could have any kind of interest or skill, not mentioned here, that others may be interested in paying for to help animals.
Another way to earn money for an animal charity is to offer to be a "slave" if they have a charity slave auction. In these, you are able to state what services you would like to offer.
Image: You could offer ironing services to raise money for animal rescues and charities. Source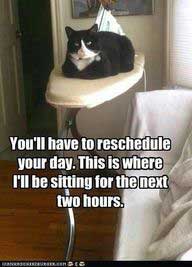 Vouchers From Businesses As Fundraising Prizes
If you have a business, vouchers are much appreciated as prizes for auctions, raffles, and other competitions held to raise money to help needy animals. If you work for a kind employer, it may be worth asking if they would be generous enough to donate these.
You may wish to approach local businesses to see if they would be generous enough to donate vouchers or other prizes to the animal charity. Only do this if you have permission from the charity to approach the businesses in their name. Let the businesses know if and how the charity will publicly give them credit for donating the prize. This may be on their website, social media pages, or in their charity newsletter.
Privately owned businesses are a good bet, such as local restaurants. They will sometimes offer vouchers for meals.
Bake Doggy Treats
If you like baking, you can bake pet treats to raise money to help animals. You can sell home made baked doggy treats through donating them to online charity auctions and sales, or they could be sold on a stall run by the rescue at fates, fares and sales. They are often bought as gifts for people's pets.
~ Thanks to website visitor Miranda Fernald from Westbrook, ME, US for that suggestion.
Image: Peanut butter home made dog treats. Source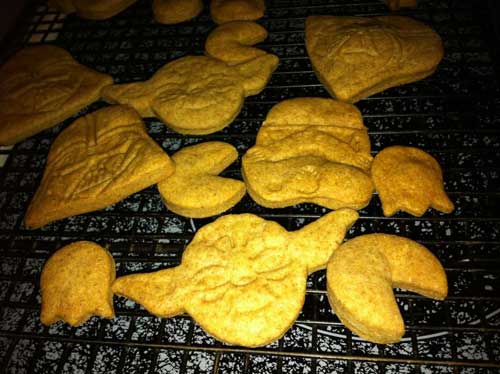 Donate Crafts You Have Made To be Sold
If you enjoy crafting items, an easy fundraising idea is to donate them to be sold in aid of animal charities and rescues.
You can donate your crafts on a stall run by the animal charity at an event they attend. Another option is to donate them to be sold online. You could offer them to be auctioned on Facebook in aid of animal rescues and charities.
You can find auctions run by different animal rescues in these two Facebook groups:
Auctions & Sales To Help Animals
Animal Rescue Auctions & Other Events
If you would like to run, or help run, an online animal charity fundraising shop or auction yourself, have a look on this page.
Your crafts can be jewellery, knitted or sewn items, ceramic items, greetings cards (even recycling them from greetings cards you have received), and lots more other items in lots of other different ways. Search the internet for ideas of what you could do (there are many), and take a look at our Crafting Ideas pages.
Image: A necklace and earrings set a crafter has made to sell to raise money for an animal rescue.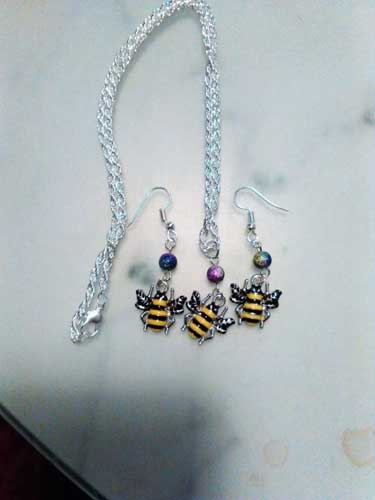 Sell Items On eBay For Charity
You can declutter your home and raise money to save animals from suffering by selling items on eBay For Charity. There are many animal charities registered with eBay For Charity. You can choose a percentage from the sale of your item that you would like to give to them. See how, here.
Birthday Party Fundraisers
Birthday parties can help raise funds for animal rescue charities. For instance, some animal rescues have facilities that can be hired out to hold birthday parties in.
Contact local animal shelters to see if they can accommodate birthday parties. There are a number of party games that can be played at such a party, suggested here.
Image: Parties that lets kids fund raise for animal rescues. Source
Help On A Fundraising Stall
Fundraising stalls are often held at local events for animal charities and rescues. For them to go ahead, they need enough volunteers. You could be one of those volunteers and help raise money for the rescue. Contact your local rescue to volunteer. You can see some fundraising stalls, here, that can be held for animal rescues.
Take Part In A Street Collection
Street collections are often an effective way of raising money for charity. Find out from your local charity if you can volunteer to take part in a street collection.
Visit Animal Sanctuaries And Other Places That Help Animals
You can help animals by visiting an animal sanctuary or rescue that welcomes the public for visits. You can either pay the entrance fee, or if there isn't one, give a donation in its place. If the sanctuary has a cafe or shop, spend money there. If the cafe is local, you could regularly go there with friends or family.
Some animal sanctuaries provide holiday accommodation, or camping areas at their sanctuaries. Going on holiday there is a great way to raise funds for animals in need.
Be careful about where you visit though, as many animal attractions use and exploit animals, leading to their suffering. By supporting those animal attractions, you are causing their suffering. Have a look at this page for details of how to avoid that.
Image: CALF Animal Haven in Whitby, which you can visit and camp at during the summer. Source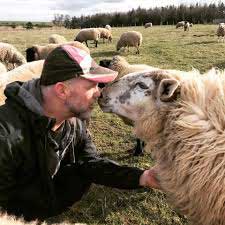 Create An Easy Fundraising Ideas Group With Friends / Family
Get a few of your animal lover friends together and let them know you have come up with an idea of how you can all have fun, be sociable with each other, AND help animals. You could all arrange to meet up every so often, for example, every month. Each time, pledge that you will do some easy fundraising that month, then when you get together again, you can work out how much you have raised as a group to help animals.
Use some of the easy fundraising ideas on this page. The easy fundraising ideas you can use can be as simple as popping your loose change in a jar for a month, or going without something for a month, or selling items on ebay for charity (items you have made or cleared out from your home). You can have fun coming up with fundraising ideas of your own too.
You could meet up at each others homes, the pub, or as one of your ideas, you could meet regularly at a cafe run by an animal charity or rescue.
Image: Meet up with friends to discuss easy fundraising ideas you can do. Source
Do Monthly Draw For Animal Sponsors
If you are an animal rescue who needs sponsors for your animals or rescue spaces, doing a monthly draw may help encourage new sponsors and help retain existing ones. Only the sponsors of the animals or rescue spaces are entered in to the prize draw every month, to win a lovely prize that can either be donated from local businesses, local people, or can be found in animal charity shops.
More Easy Fundraising Ideas
We have more fundraising ideas on this page, of stalls you can hold to raise money to help animals. Furthermore, if you are good at organising, and think you could arrange a charity event or activity, have a look at the ideas here. They range from small, simple events and activities, to larger ones.
Many Other Ways To Help Stop Animal Suffering
Here are more ways to earn and raise funds to help animals in need.
On this site there are many varied ways you can help animals and help stop cruelty. In fact, there are so many different ways that there is something for every personality type, no matter what their circumstances.
If you would like to learn more about why we so urgently need to help stop animal suffering, please see this website. It will allow you to broaden your knowledge of many different types of world wide animal abuse, giving you the ability to help animals by spreading awareness and answering questions people may have. Please be aware that you may find the information distressing, especially if you are a more sensitive person.
One great way to help animals is to share the information you have seen on this website. Doing so means more people could help stop animal cruelty, and that would make you responsible for more animals being saved from suffering. Together we can help people help animals <3
You Are Here:-

Comments
Do you have information you would like to share? Or have you spotted a mistake on this page? We'd love to hear from you so please leave a comment below.