Visit our Facebook Page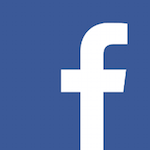 Click the button below to read a random site article

Share This Page

Introduction
You can help animals by donating a vehicle to an animal charity or rescue. It doesn't matter what condition it is in, even if it has been in a crash and is badly damaged. Even if it is a rusting shell. It will be collected for free by a vehicle donation scheme, and will help your chosen animal charity save animals from cruelty and suffering.
Before Donating A Vehicle Through A Vehicle Donation Scheme
If your vehicle runs well and has an MOT, the animal charity or rescue shelter might be able to use it in its work. It may be worth contacting the charity directly before you donate it through a vehicle donation scheme. If the charity cannot use it, then donating a vehicle through a vehicle donation scheme will raise money that will be a big help to the charity.
Do you know of an animal charity that is not benefiting from a vehicle donation scheme? Let them know they can join a scheme, here.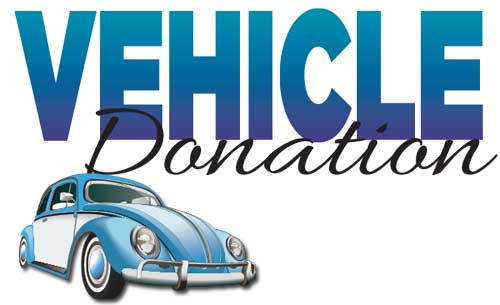 What Types Of Vehicle Can Be Donated?
You can donate any type of vehicle in any condition, including cars, vans, mopeds, motorbikes, lorries, trucks, milk floats, and more.
Image: Donating a vehicle of any type, no matter what condition it is in, will raise money to help your chosen animal charity.
Frequently Asked Questions About Donating A Vehicle
When donating a vehicle through a vehicle donation scheme, the vehicle is picked up at a time convenient to you, and taken away completely free.
The following FAQ answers are a sample based on the Give A Car vehicle donation service. Other services may operate differently.
What will happen to my donated vehicle?

It will either be sold at auction, as a whole or for parts. If not, it will be sold for scrap value, where it will be recycled. We choose whatever will maximise the return. You will be informed of what will happen to your vehicle.
Will I be told how much my vehicle has raised for the charity?

The amount will be stated on a receipt which the vehicle donation scheme will send you. You should also receive a receipt from your chosen charity.
When donating a vehicle, how long before it is collected?

It is usually collected within three days. In rare cases it can take up to ten days. We will have a collection agent call you in order to arrange a pick-up date and time to suit you.
Do I have to be there when my car is collected?

When donating a vehicle, the registered owner of the vehicle does not need to be there. However, someone should be present to deal with the vehicle documentation (the V5c). If there is no V5c document with the car and the car is sold by auction, £25 is deducted by the auction off the amount raised.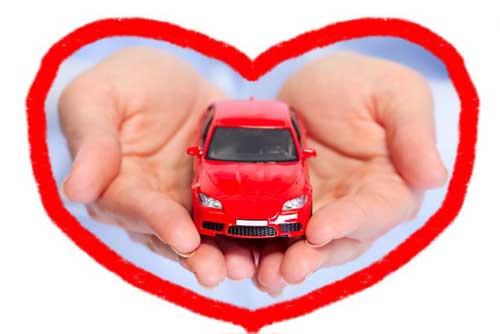 Do you cover all the UK?

We cover the vast majority of it to make donating a vehicle possible for as many people as possible. Unfortunately we cannot guarantee collection from any off shore islands. If you call us on 0207 736 4242 and let us know your postcode, we'll see what we can do. There are a few areas where the costs of collection exceed the value of scrap vehicles. When you call we will notify you if this applies to your area, and hopefully we can recommend an alternative.
In what circumstances can I donate an abandoned vehicle that I do not own?
If you are a property management company, and are willing to sign the right documents, we will be able to collect the abandoned vehicle. If you are a member of the public with the intention of donating a vehicle that has been abandoned, call us to discuss the possibility.
What does Give A Car get out of doing this?

We charge the charity an admin fee of 25% plus 5% VAT of the car's profit. This enables us to keep running and raising money for charity.
View the whole FAQs section for GiveACar, here.
Donate A Vehicle Here
At the following website you can choose the animal charity you would like to donate a vehicle to, and find information about how to donate it.
Image: You can find animal charities on the Give a car website when donating a vehicle. Image Source
On the site, their is the option to search for specific animal charities.
You can alternatively browse the list of over two hundred charities they have in their Animal Welfare section. Animal related charities may also be found in the Environment and Conservation section.
Give them a call with any enquiries about donating a vehicle on 0207 736 4242
Donating A Vehicle To Hillside Animal Sanctuary
One charity that uses the Give A Car scheme is Hillside Animal Sanctuary. Here is their Give A Car page. This charity is not only a large rescue sanctuary for many different animals, but it also carries out vital investigations which reveal the animal cruelty that goes on behind the closed doors of where the public are not allowed to see.
Donate Other Things To Help Animal Charities And Rescues
There are a number of smaller things you can donate to help animal charities and rescue shelters.
You can recycle for charity by donating cell phones / mobile phones, empty printer cartridges, stamps, broken gold jewellery, and more. Find the details of how you can help animals this way, here.
Other items you can donate to help animal charities and rescue shelters are items they can use in their animal care, such as old towels, blankets, newspapers, and more. Animal charities and rescues can also sell your donated clothes, bric-a-brac, and other items, to raise funds. You can find details here.
If you are crafty, you could either make things that animal charities and rescue shelters need, or donate materials to those who do.. See this page for more details.
Something very precious to animal charities and rescues that you can donate is your time. There is a huge choice of things you can do to help, explained on this page.
Many Other Ways To Help Stop Animal Suffering
Here are more ways to earn and raise funds to help animals in need.
On this site there are many varied ways you can help animals and help stop cruelty. In fact, there are so many different ways that there is something for every personality type, no matter what their circumstances.
If you would like to learn more about why we so urgently need to help stop animal suffering, please see this website. It will allow you to broaden your knowledge of many different types of world wide animal abuse, giving you the ability to help animals by spreading awareness and answering questions people may have. Please be aware that you may find the information distressing, especially if you are a more sensitive person.
One great way to help animals is to share the information you have seen on this website. Doing so means more people could help stop animal cruelty, and that would make you responsible for more animals being saved from suffering. Together we can help people help animals <3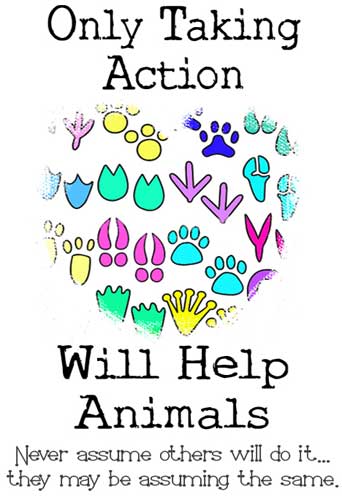 You Are Here:-

Comments
Do you have information you would like to share? Or have you spotted a mistake on this page? We'd love to hear from you, so please leave a comment below.